So much has happened today. I don't know how I'm going to describe it all in one blog.
The day started at 2 AM. I double-checked my luggage, then woke up my family and drove to El Cerrito High School. There, Don talked to us about things we might need and things we'll be expected to do. Finally, we finished at around 4AM and went onto the airport shuttle.
Once we arrived at SFO, we grabbed breakfast and took a plane to Phoenix. I have to admit, I really enjoy plane rides (even the ones with turbulence and people in front of you backing their chairs on you). After we arrived in Phoenix, we rushed over to another gate, where our plane took us to St. Louis.
An interesting thing that happened today was when Alie, our chaperone, found out the man she had been sitting by was a Washington University alumnus. He recommended great places to see near campus, and though we were all pretty tired by that point, the promise of seeing the St. Louis Gateway Arch, Basilica of St. Louis, and Old Courthouse was enough to wake us up and keep moving.
We took the Metro to the Arch. It's so impressive! I was in awe over its massiveness. Because we didn't have a lot of time, we didn't go up into the Arch. Instead, we looked around the museum, saw the Basilica of St. Louis (though we couldn't go in—it was closed for renovations), and saw the Old Courthouse (we didn't go in there either—it was closed).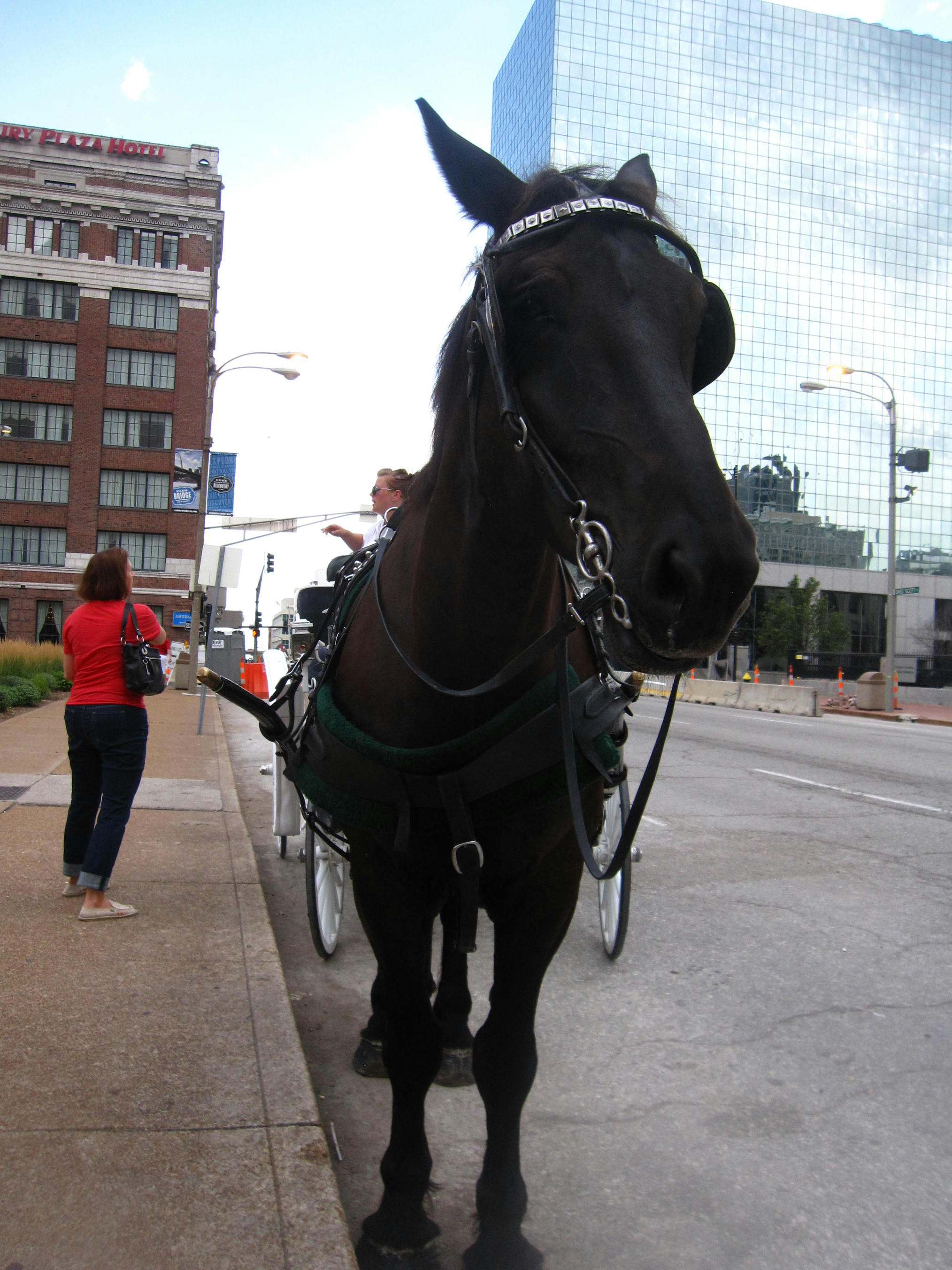 A horse hard at work.
Though that was kind of a triple whammy of disappointments, the museum was really cool (both literally and figuratively). There were multiple talking mannequins that I felt were at once impressive and creepy, and therefore had to take a picture of them. We were also able to go to

Anthonino's Taverna, where we tried the fried ravioli that was on Food Network's Diners, Drive-ins and Dives. It was so delicious! The outside was a crispy shell, while the inside was a creamy, steaming filling that oozed out once you cut it open. My pasta con ricotta (ricotta tossed with pasta topped with almonds) was also tasty, though the combination of bread and fried ravioli was so filling I could only finish half my pasta.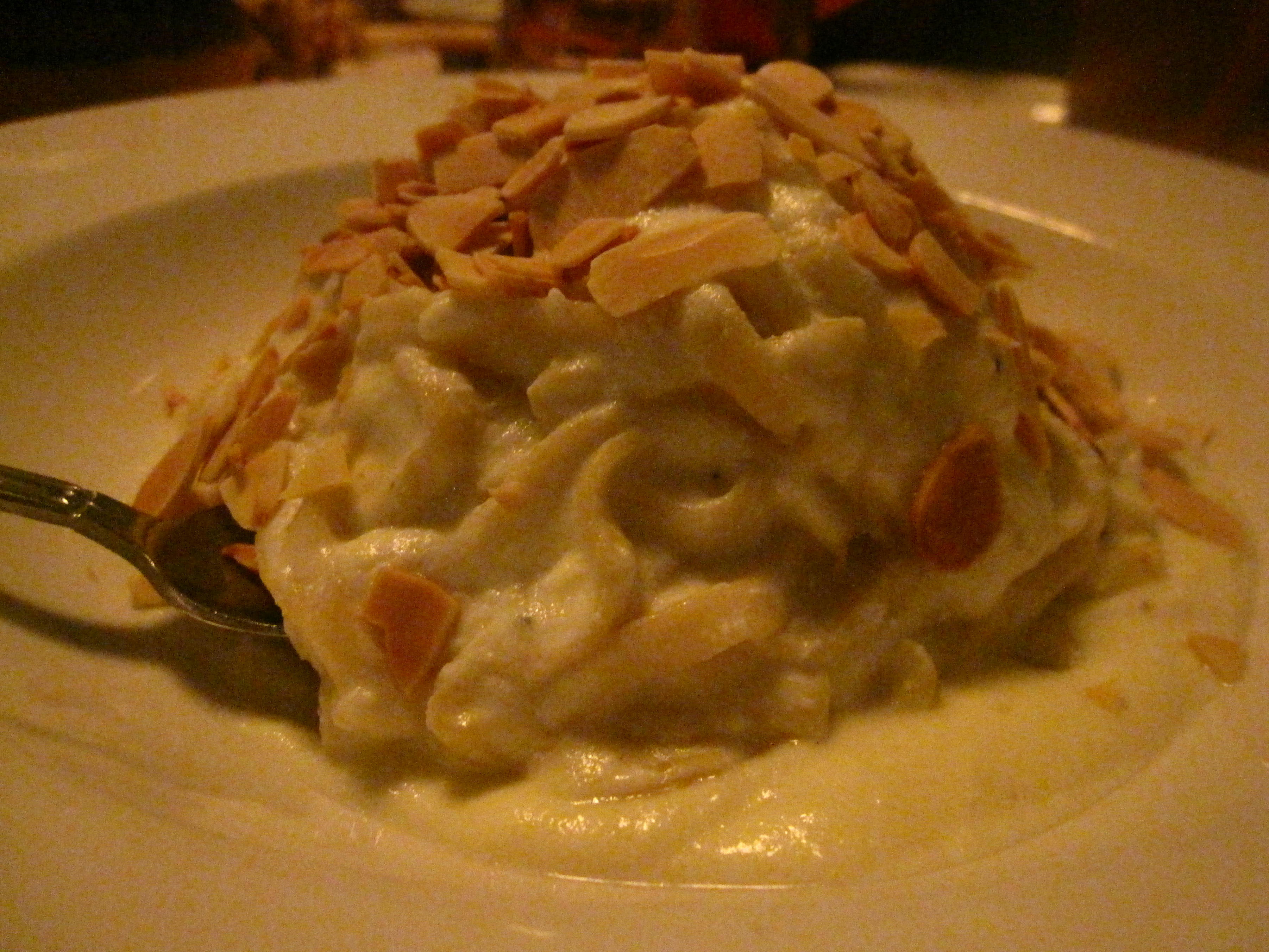 My enormous mountain of food!
Afterwards, we took a cab back to the Charles F. Knight Conference Center where I scrubbed sweat and airport germs off, and am now uploading pictures and finishing up this day's blog.
I can't wait for tomorrow! We'll take our first college tour at Washington University and have a fancy dinner with Washington University alums. I can't wait!
1.)

It is so humid!! It's like I'm in the Philippines! We're definitely blessed with great weather in the Bay Area.
2.) Green trees and lawns paired with brick buildings make for some great scenery.
3.)

Thunder is scary, as is lightning. We heard multiple claps of thunder and saw bright streaks of lightning dancing across the sky while at Anthonino's Taverna, though the temperature outside was still warm.