The ILC presentation feels like an entire lifetime ago… A lifetime in which I've been generously given amazing opportunities.
I remember being so excited for the presentation at my school. I barely knew anything about it then; I only knew that amazing students have been part of the Ivy League Connection. Even then, simply being invited to the presentation was enough to give me hope. The ILC's acknowledgment of my grades and achievements, no matter how trivial and insignificant they may seem now, gave me hope that yes, I can go far. At the time, however, I never knew the extent of how far the ILC would take me.
I vividly remember sitting in that classroom, riveted by the stories and experiences of the ILC alumni. I remember looking at my friends' faces, sure that my own face was reflecting the excitement I saw in theirs'. That was the start of this journey.
I remember writing my essays, hoping they were good enough—the days spent editing them in the library at school, or rushing home after a club or class meeting to finish one. I remember, of course, the rush of joy and nerves I felt after finding out I had moved on to the interview. Of course, the feeling of being heartbroken after being turned down after an interview is hard to forget as well.
Yet what I remember most? The day I found out I was going to the University of Chicago. Sitting in the counselor's office, three feet away from Don as he asked me if I'd like to go to the University of Chicago, still seems unreal. Yes, a tear or two may have prickled my eyes. Yes, hugging, happy dances, and shouts of congratulations may have occurred afterwards. The happiness from this news was enough to bolster me through the UChicago summer application process.
Having the ILC helping us during the application process made life so much easier; I'm sure my actual college apps will be a breeze.
The Meet-and-Greet with the cohort was awkward at best. In a way, that was also another milestone. That day at Mountain Mike's was the first day I met a group of people who I have now become close to. People who have been through the same trials and experiences as I have; people I most likely wouldn't have become friends with under normal circumstances. We all got more comfortable with each other at the School Board Meeting. Though nervous being on television, I felt proud to be a representative of my school.
The first alumni dinner... The first of many.
Ah, the first alumni dinner. It makes me marvel at how big a change the ILC has made in me. I recall quietly sitting at the dinner, occasionally making remarks, allowing Ms. Kronenberg to direct most of the conversation. Now I compare it to our University of Pennsylvania alumni dinner, where I was able to engage in conversations with multiple people, acquiring information about Penn, the admissions process, and the admissions officers' job experiences. Then I compare it to our very last alumni dinner with the University of Chicago, which was full of loud laughs and entertaining—and informative!—college tales.
Travelling with the cohort and getting to see the Gateway Arch, Basilica of St. Louis, Old Courthouse, St. Louis Zoo, St. Louis Art Museum, White House, Washington Monument, National Mall, Lincoln Memorial, World War II Memorial, Healy Hall, Independence Hall, Liberty Bell, Cloud Gate, Navy Pier, and more was such a great experience.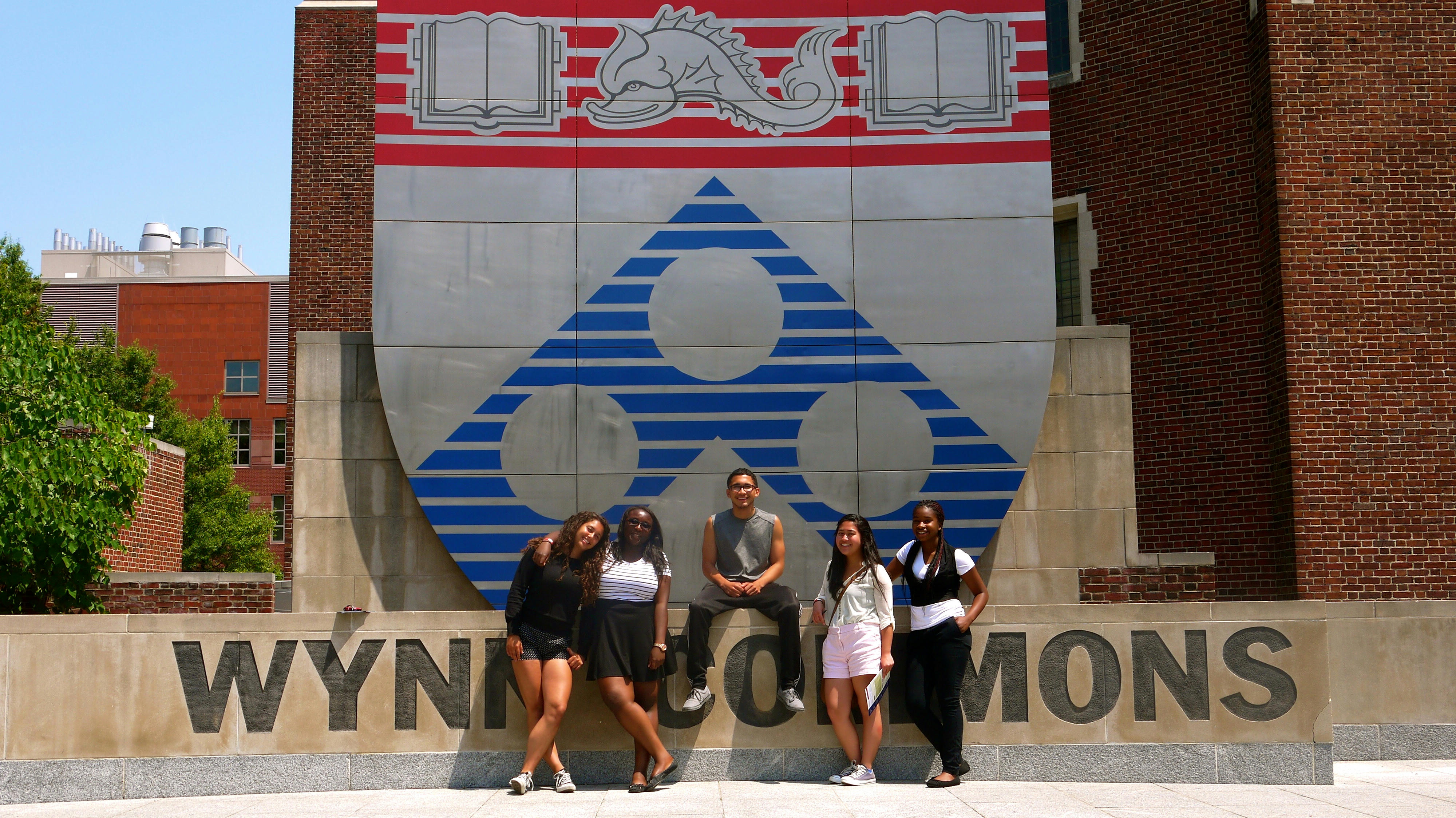 At Penn!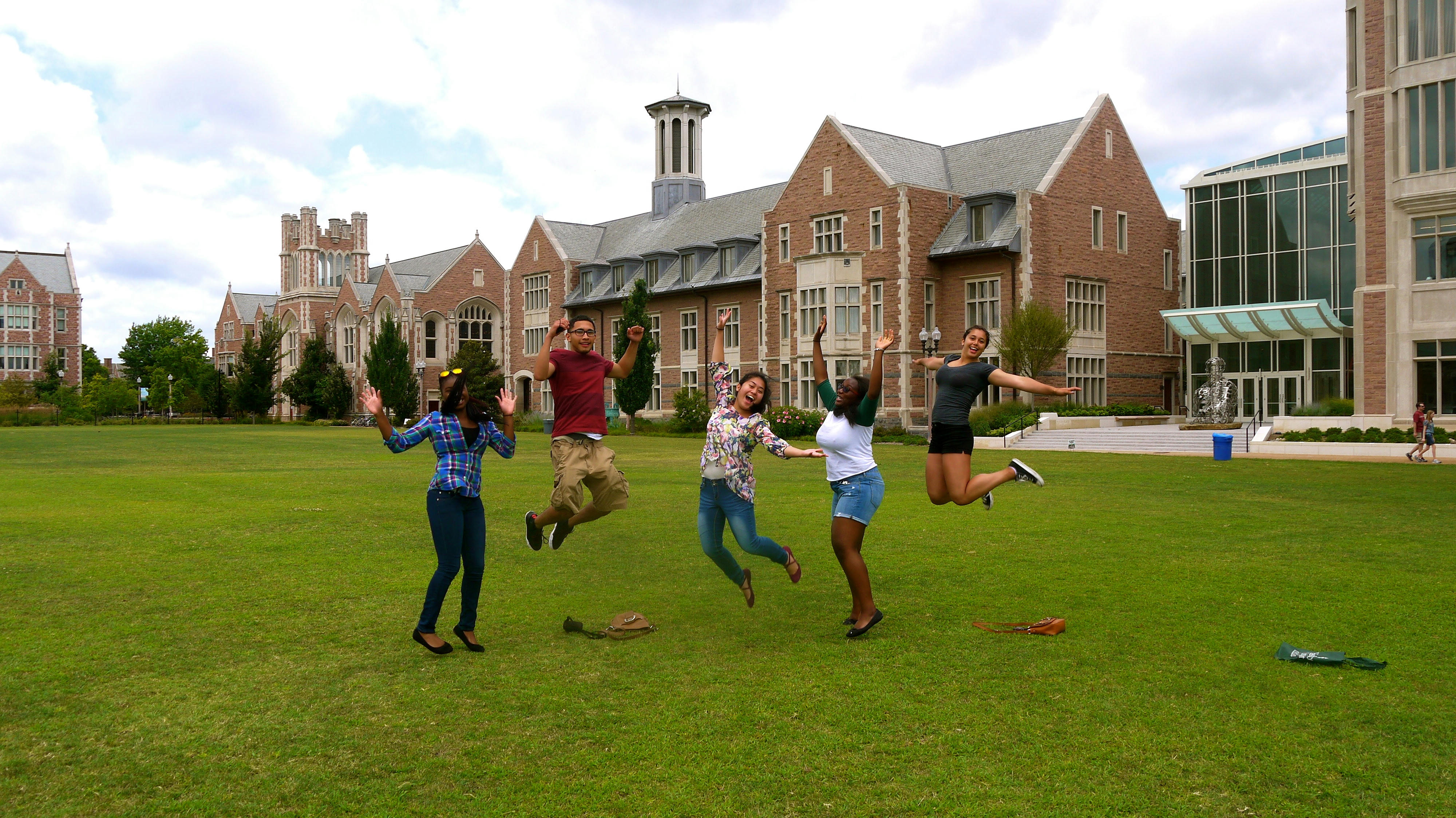 Wash U!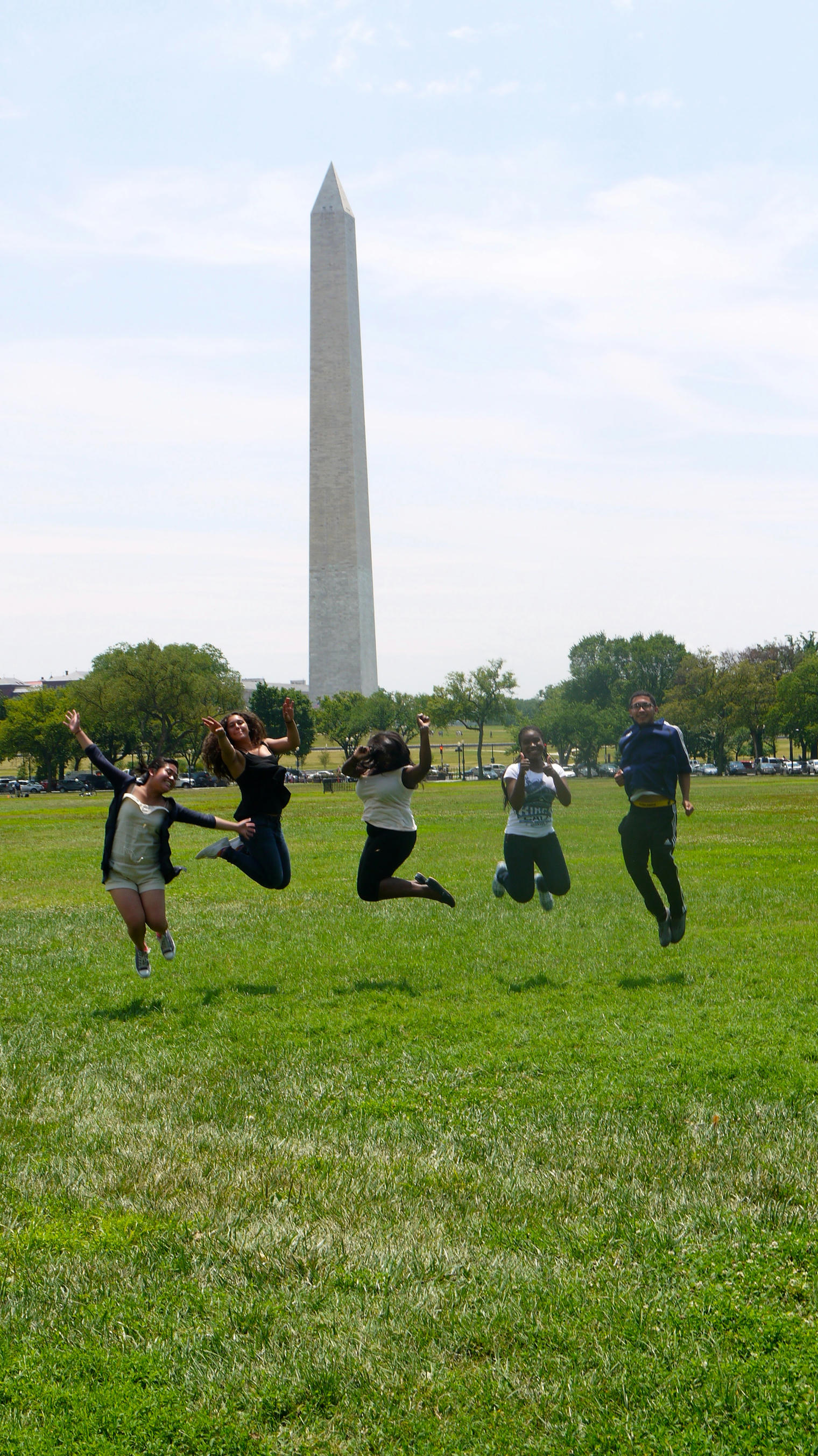 In Washington, D.C.
The tours and information sessions we were able to attend at Washington University, Georgetown University, the University of Pennsylvania, Northwestern University, and the University of Chicago were also highly helpful. However, the alumni dinners were what really sold me on some of the schools. I found that the info sessions didn't give me nearly as good an understanding of the school and students as alumni dinners did (dinners made possible by the ILC, of course).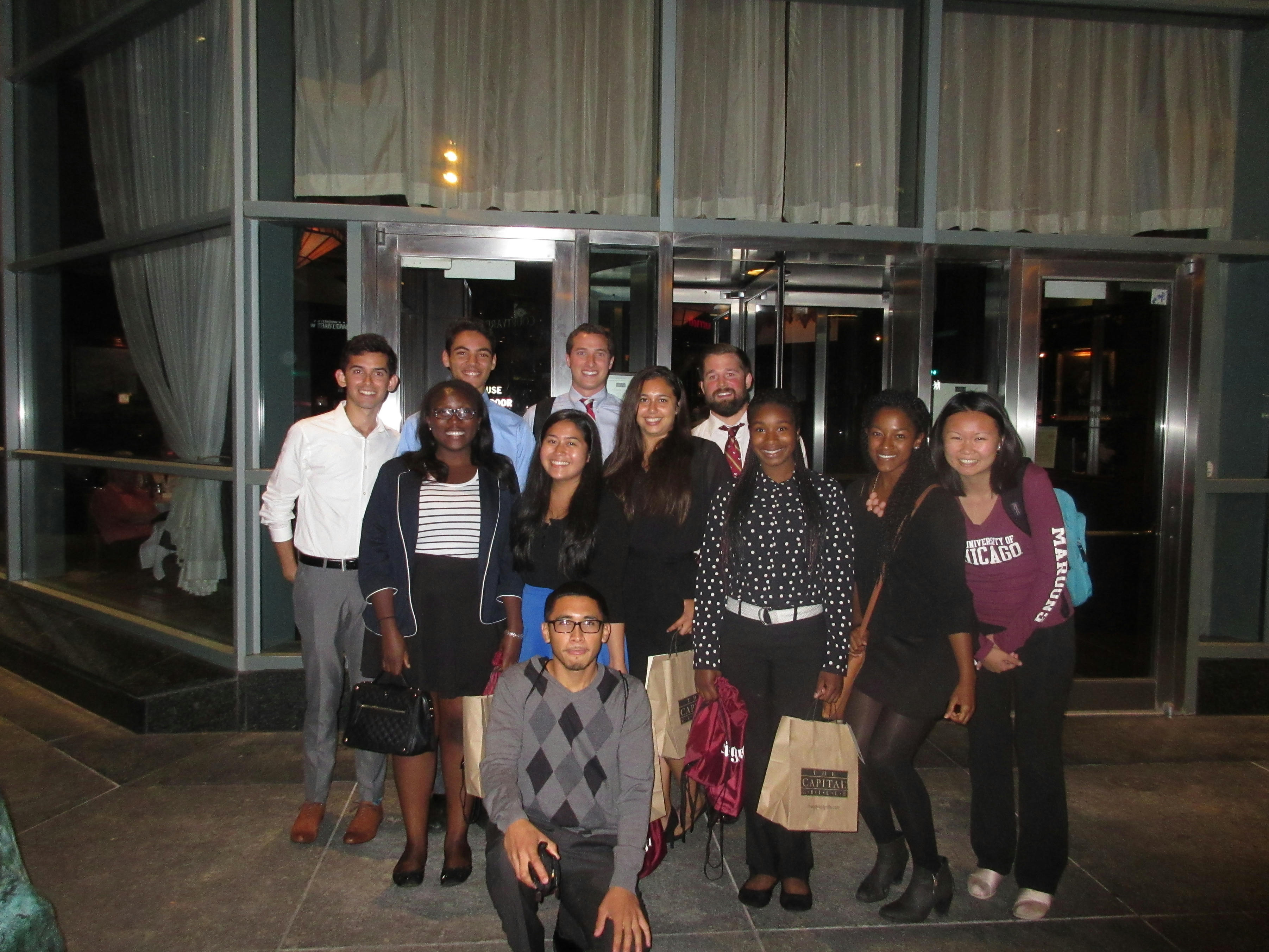 With the UChicago alumni and students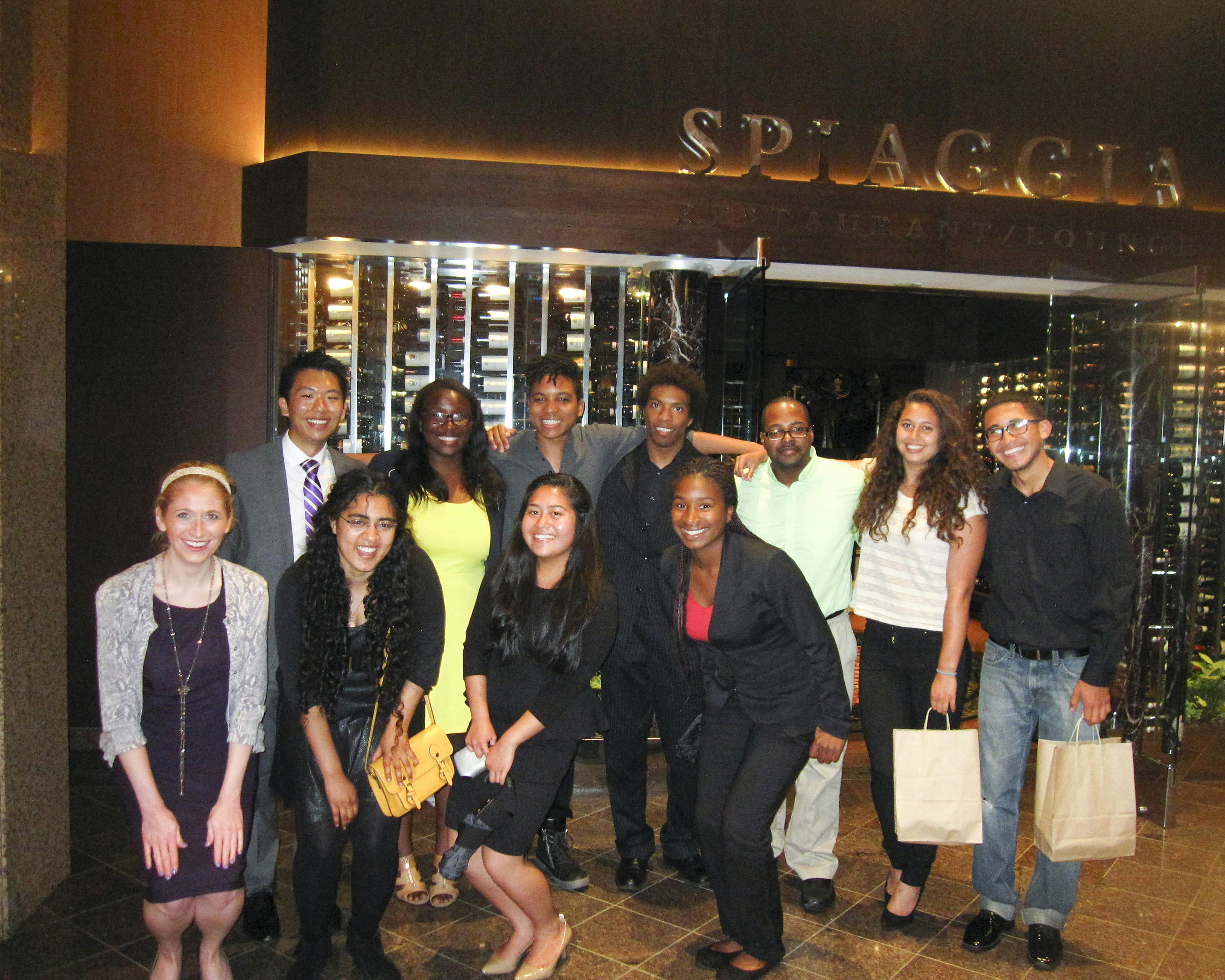 With the Northwestern alumni and students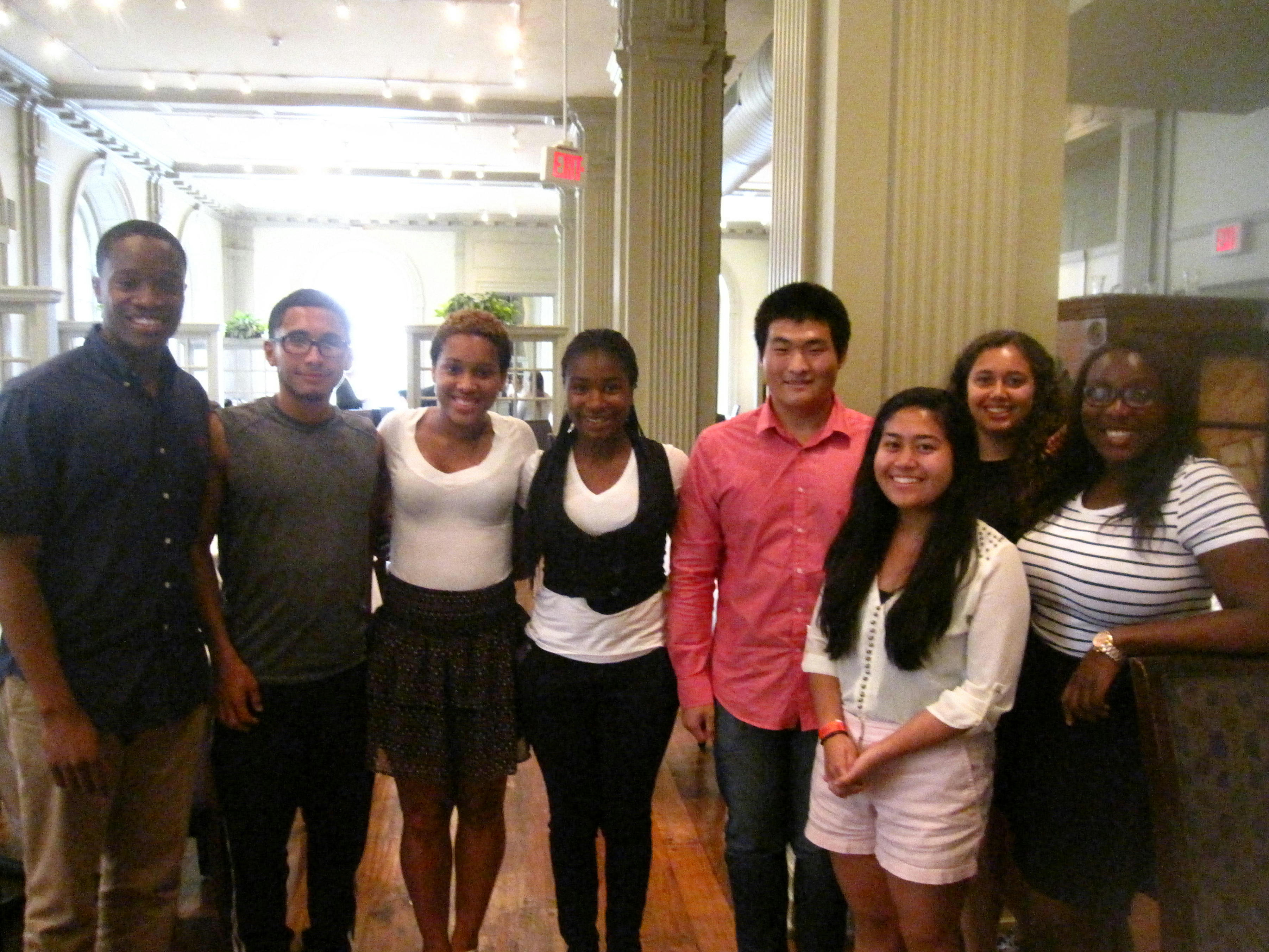 With the Penn students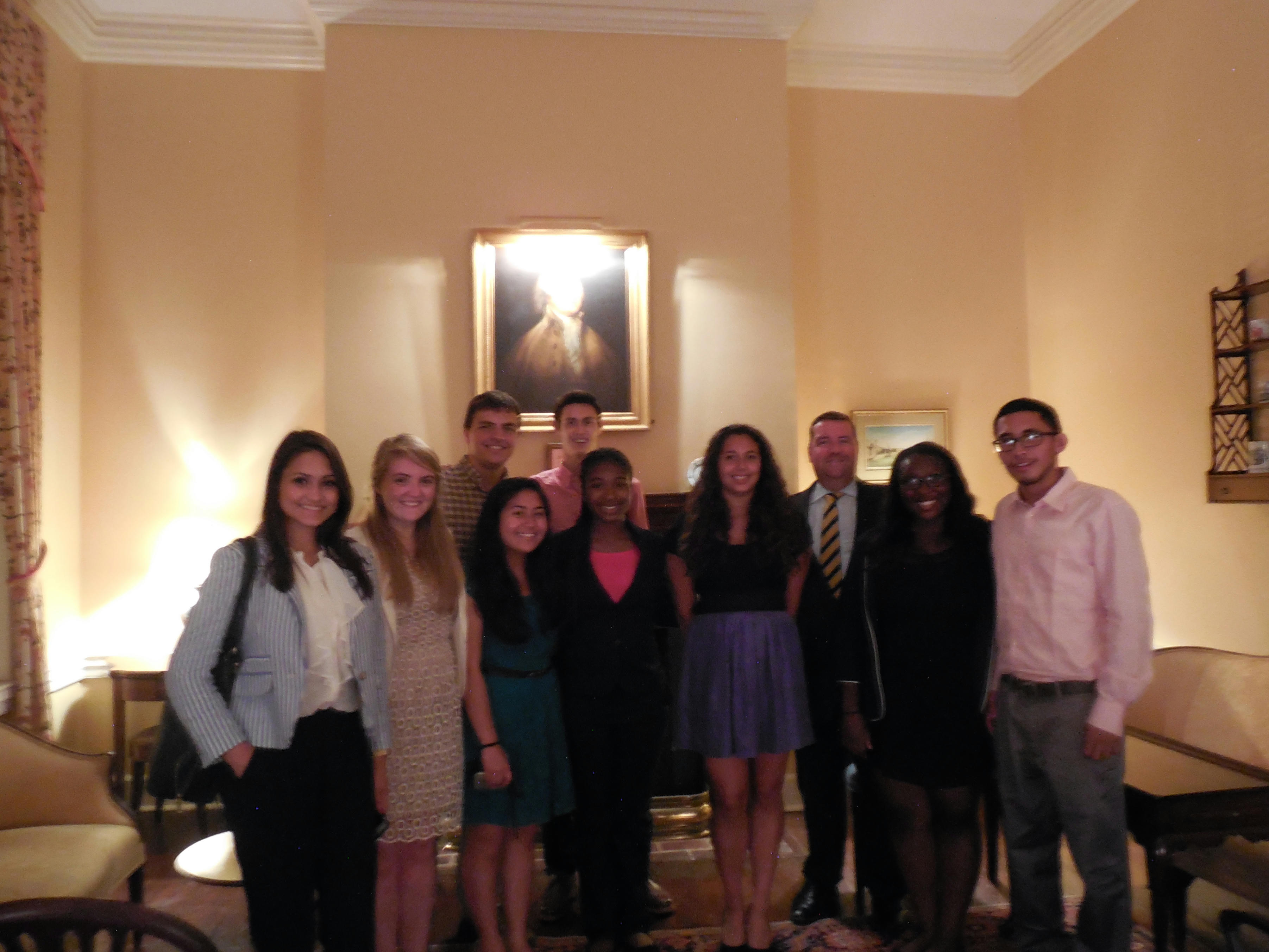 The Georgetown alumni dinner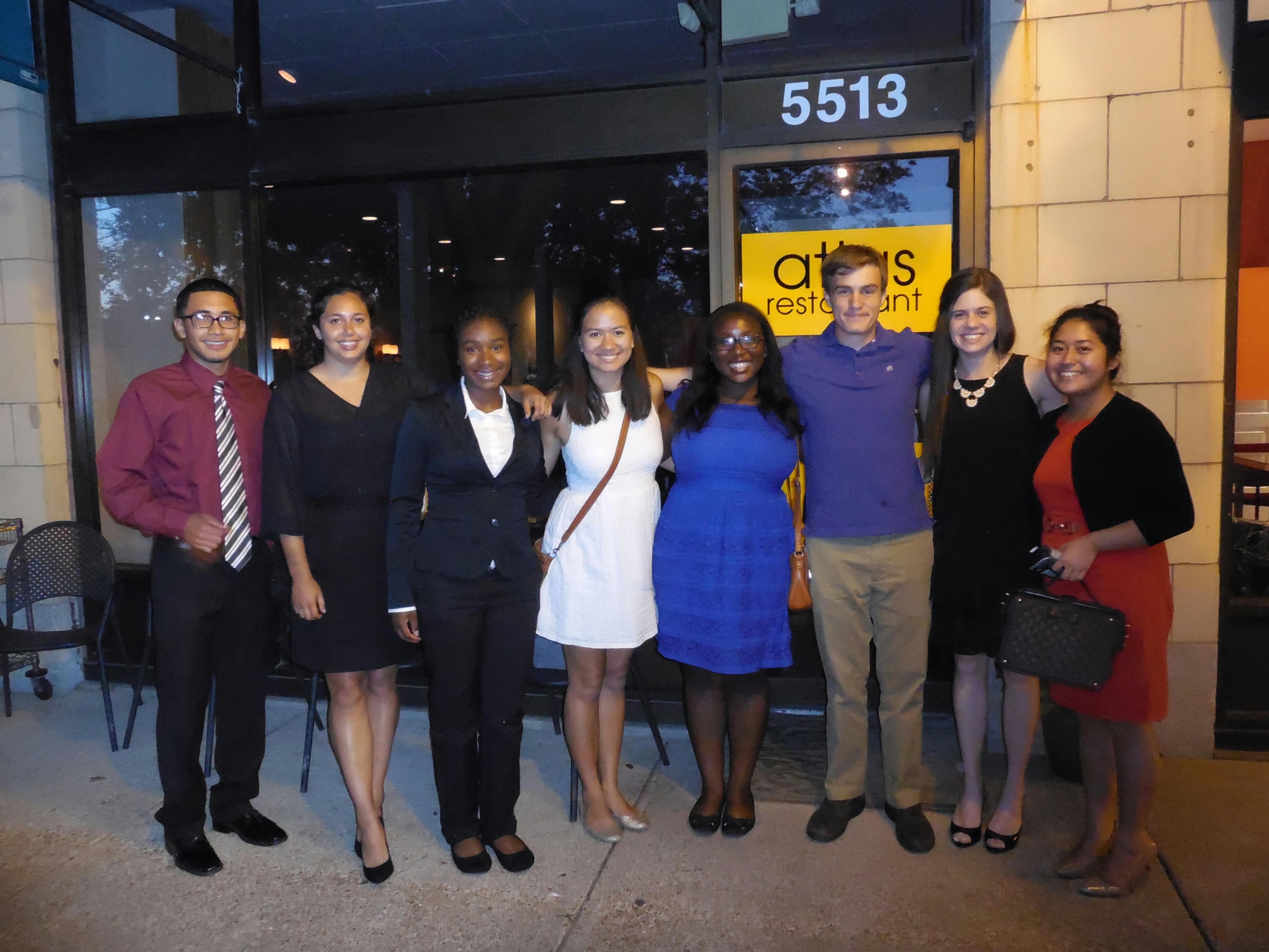 Washington U alumni dinner
I won't even attempt to sum the Biotechnology class at UChicago in a single word. It was such a whirlwind adventure! I'm going to be completely honest and admit that the first few days were difficult. The lectures were above my understanding, the daily lab protocol quizzes we took each day were hard, and I struggled to learn the basics in lab—how to pipette, calculate certain equations, or use special microscopes. I won't lie and say that balancing studying, doing homework, blogging, and socializing was easy. It wasn't. What every student at every alumni dinner said is true—time management is everything.
I haven't yet mastered managing my time, but I've definitely improved. During the second week, I started understanding the lectures, getting better grades on my lab protocol quizzes, and doing really well in lab! I still remember the day Dr. Bhasin told April and I that we did well on the plasmid preparation. I was ecstatic! Labs were all uphill from there. I began the class without a clue on how to use any of the equipment and ended being a pipette professional.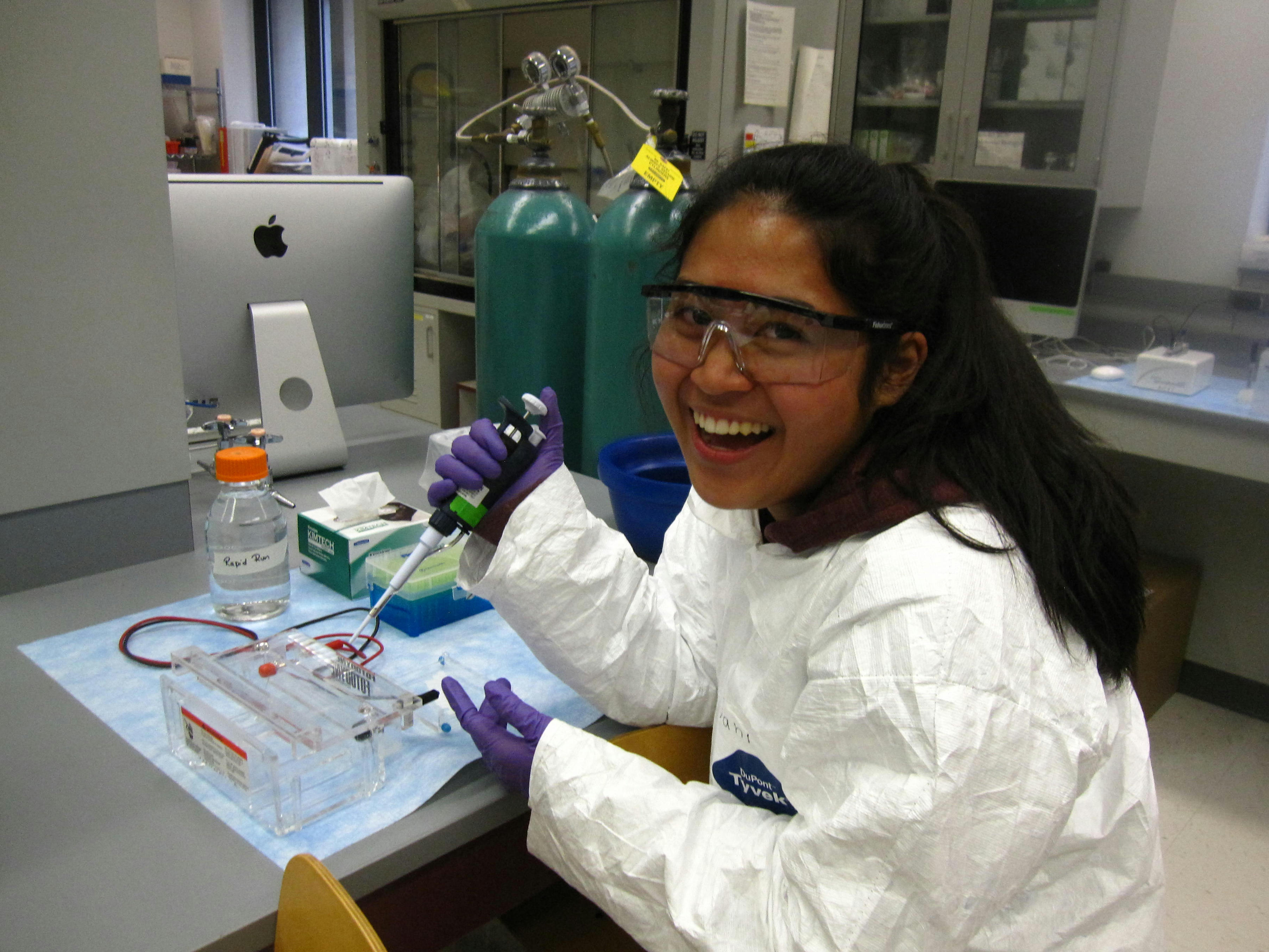 I was just posing, not actually pipetting anything. Hope you can see my enthusiasm, though!
Though the beginning of the class was discouraging, how quickly I was able to pick up labs and do well in them is encouraging. Knowing that I, an insignificant Middle College student with zero lab experience, can do as well as someone who has done the same lab once or twice before, makes me feel proud of myself.
There is no such thing as a smartest person. I learned that early on at UChicago. Everyone, it seems, still has so much to learn…and we can learn that with and/or from those around us.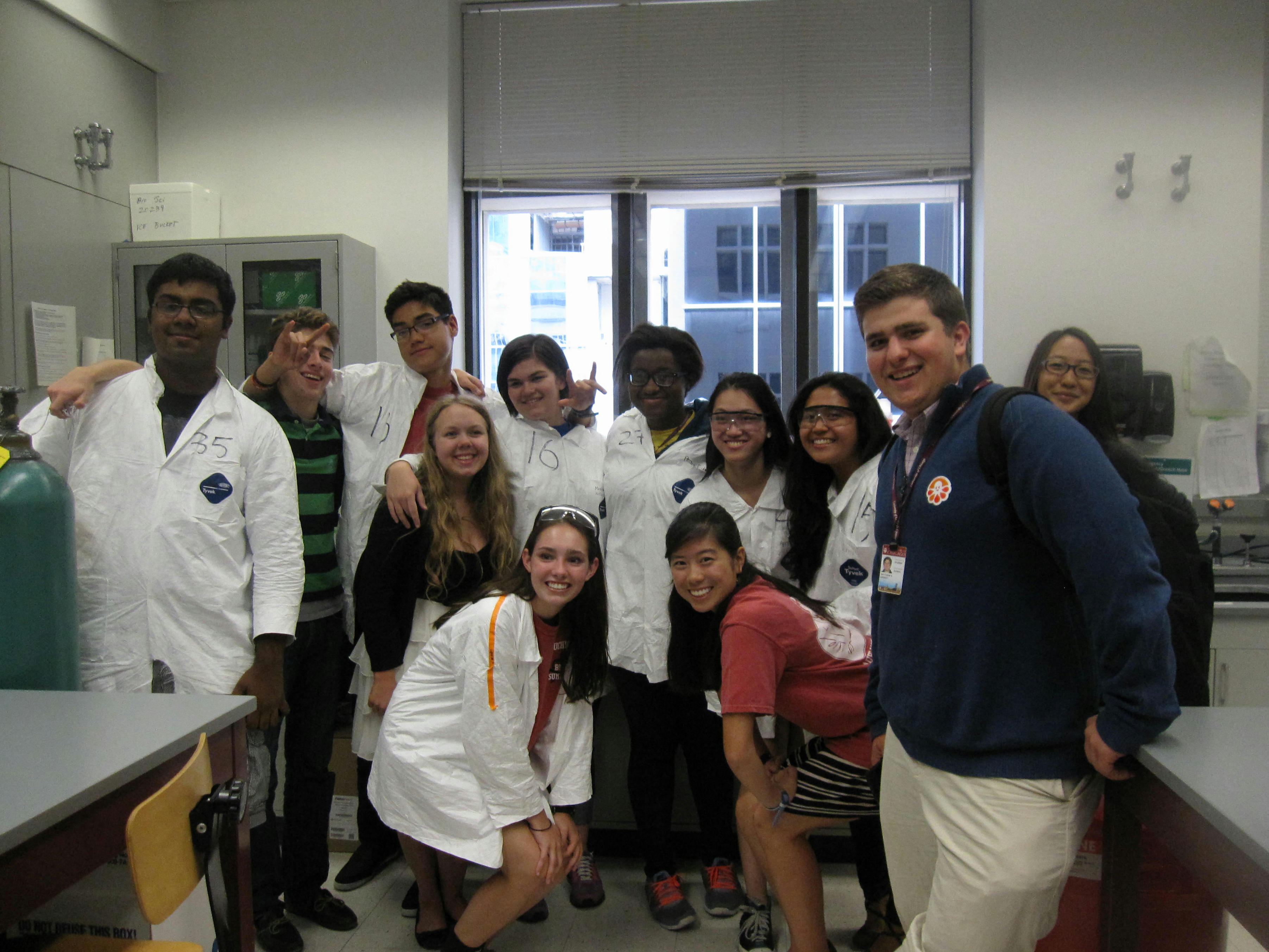 There were people around me who would stay up all night doing their work, and it encouraged me to keep going. I love how a simple smile or a supportive "Good luck" whispered across the room late at night is enough to keep me going. I can't wait to feel that in college; that feeling of support among students all chasing after the same thing—success.
This whole experience has shown me what hard work can do. All those long nights blogging, writing reports, or preparing for presentations or discussions are definitely worth it. You earn a wealth of information and hands-on experience that all pays off, in the end.
I came into this program very unsure of myself and whether or not I'd succeed. Now I know the equation to success—hard work, good time management, and drive. Of course, without the ILC I wouldn't have known this, just as I wouldn't have discovered my love for Wash U, UPenn, or UChicago. I probably wouldn't be thinking of leaving California for college as seriously as I am now. I wouldn't know that private colleges with huge endowments can help save more money than UCs. I definitely know I wouldn't seriously be considering research or forensics for my career. I wouldn't have met April (my lab partner), Peace, Megan, Demi, Lulu, Wister, Kaitlyn (my roommate who I just talked to today!), and others.
Of course, without this trip, I wouldn't have met the cohort and Alie. We joke that we're the Breakfast Club—the likelihood of the five of us becoming friends without this trip is slim. If ever you five read this, thank you. Vicky for the card and going to CVS for me, Oyin for waking me up and making sure I ate, Alexa for staying up with me, Jimmy for the card and advice, and Alie, of course, for taking care of us.
I'm so blessed that I was given this opportunity of a lifetime! Being on this trip and seeing what I'm capable of doing in three weeks has been eye-opening. It's shown me all the things I have yet to learn, as well as all the places I can go in life. It's been a humbling, encouraging, demanding, informative, and exhilarating trip. I've loved it. The best part about it is that this journey hasn't ended yet—it's only begun. My first time sharing my experience was yesterday, at the MCHS freshmen orientation, and I don't plan on stopping there! Words cannot express how thankful I am to the Ivy League Connection—to Don, to Ms. Kronenberg, to Mr. Ramsey, to all of the sponsors. Thank you!