This morning I woke up at 8:45, brushed my teeth, and got dressed to go get breakfast from the dining hall with my roommate. I ate some eggs, bacon, and mini blueberry muffins. At breakfast we met up with Amber and Edga. After breakfast we decided to check one of the athletic centers out which is also the biggest athletic center the school has on campus. We walked for about 10 minutes. The school is like a community and I like how there's an emergency pole with a blue light. You use it for when you don't feel safe while walking or when you get lost and can't find your way back to where it's familiar. The pole is for emergencies only and for instance you are walking and you see someone behind you and they're walking behind you for a long time so you would press the button on the pole and keep walking and press another until the Police come to your aid.



At 11 AM all the students met in the West Lounge for a mandatory Health Service meeting. At the meeting the speaker came from the health center and she was basically talked to us about the health services and what we can go there for. She also told us about the counseling services they have. It was actually a short meeting because as soon as everyone got there about 20 minutes later the meeting was over and everyone went back to their business until later plans we had for the day. For my free time I went with Jimmy, Dani, Alexa, Oyin, Dani's roommate (Kaitlyn), and Kaitlyn's friends that she met to take a trip to the library and the Ratner Gym. First we went to check the gym out and for me that was the second time there. Jimmy and I stayed behind and started lifting weights while everyone else went to the Mansueto Library. They got to witness the book elevator and I thought that was pretty cool. At the gym I worked mostly on my arms, a little on the legs, and my abdominal area. I might be scheduling a gym visit very often so I can be ready for next year's season of basketball. Jimmy and I headed back to get lunch. I ate some fruit, salad, and the drink I had was Gatorade. After lunch I went to my room and took an hour nap before we had to all go to a transit orientation from 3 to 3:45 PM. This orientation basically was about going over the rules and the transportation to get to places with our RAs. I think that it's cool that the students can get on the buses for free if we have our IDs. But before we started, we watched some of the World Cup while we waited for Anton and some people were there just to watch the game before they went to their meetings. The teams that played was Argentina and Germany.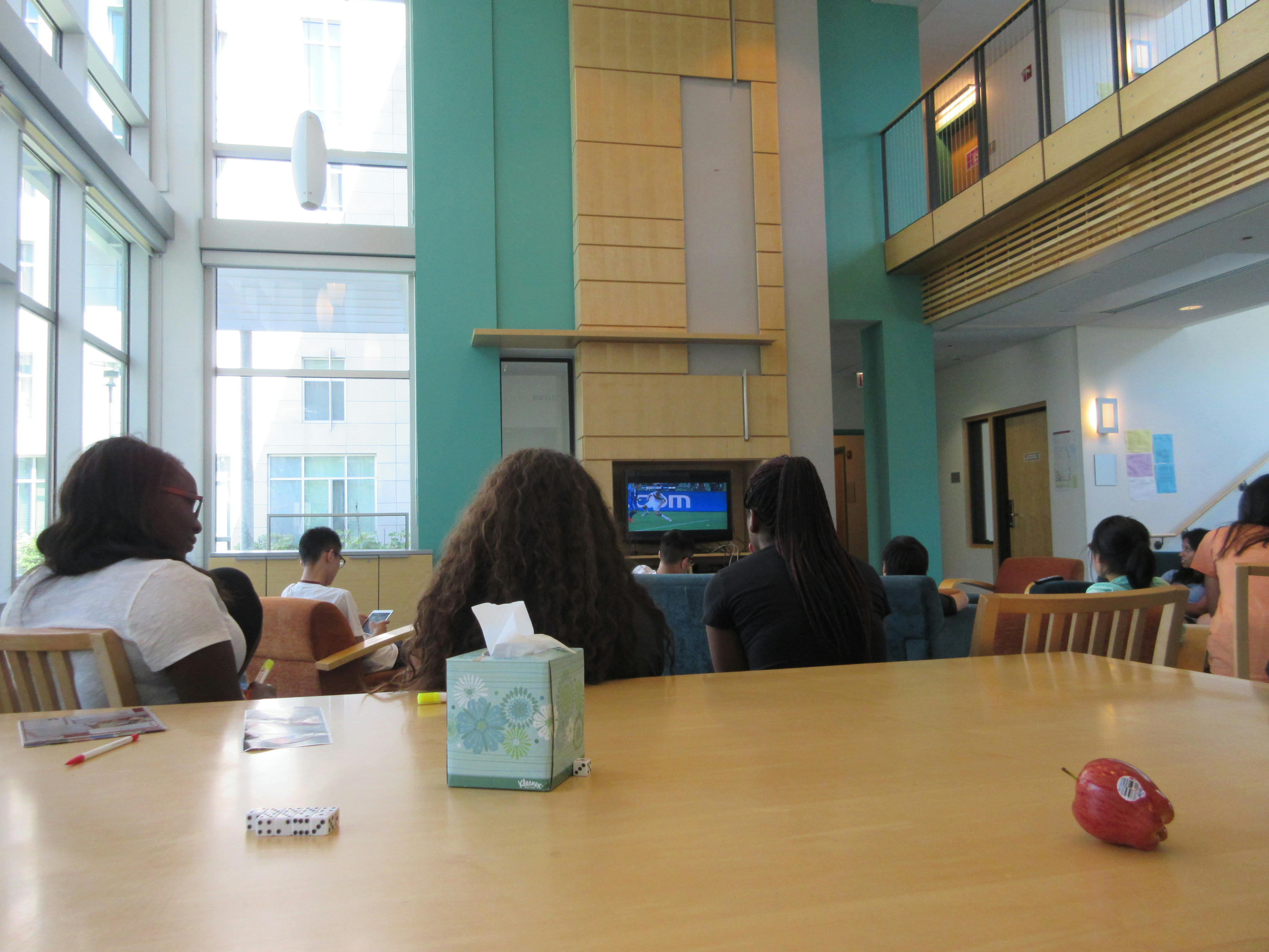 Us Watching the World Cup
At 4:30 PM we had to go to another mandatory residential service and safety meeting. All the students met again in a place called Kent Hall where they talk about the things we can and can't do and an officer came to talk about how the emergency poles work. It was basically the same as the other mandatory meeting we had earlier. After that meeting we had a choice to go on a restaurant tour to various locations. Each RA had a certain place they would go to and that's how we chose which one to go to. I chose to go to Five Guys with the RA named Michael while some of stayed behind and ate in the dining hall. Other than having a bad cold while on the trip, I had fun on the long walk.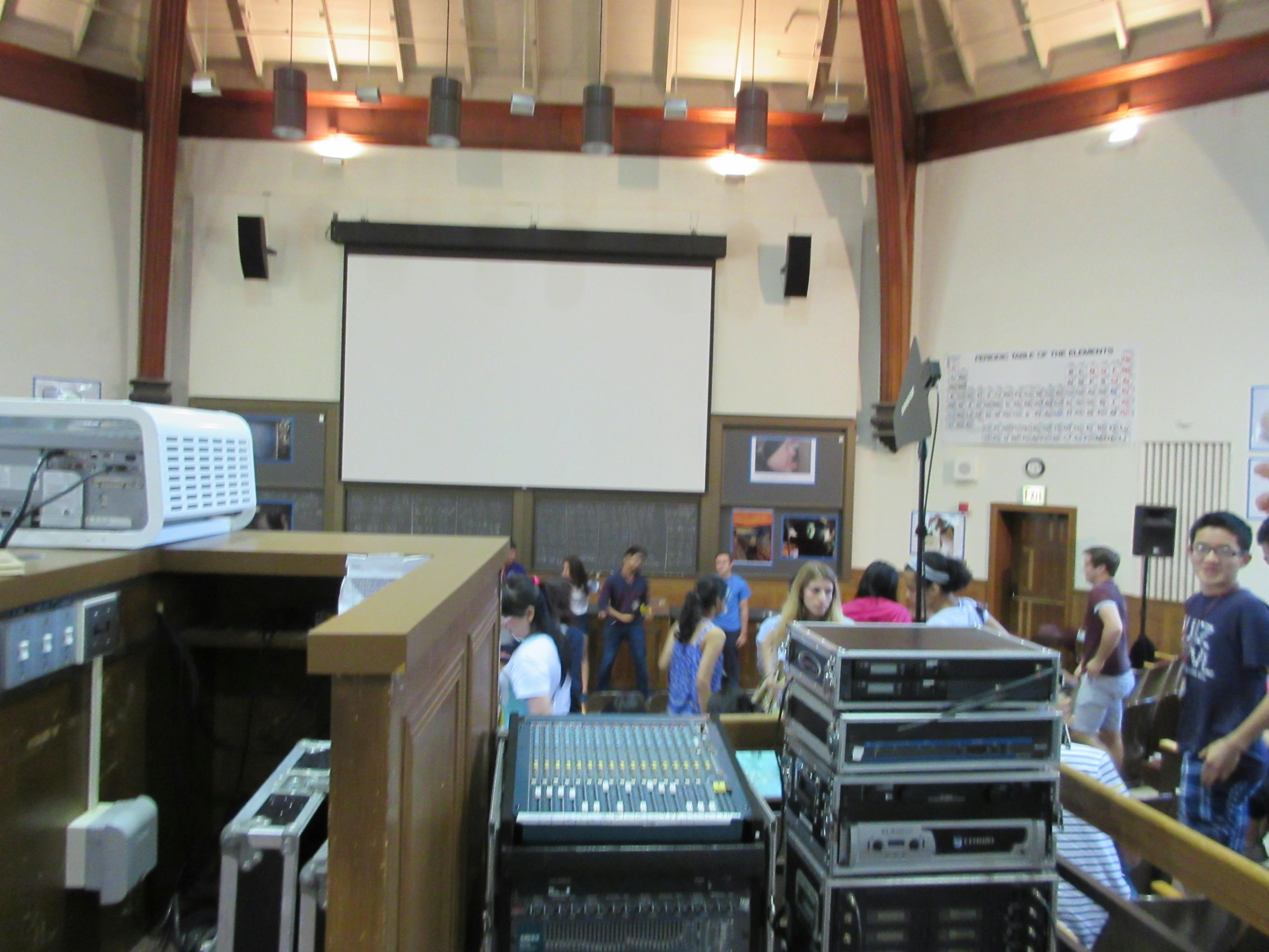 Everyone Departing the Meeting in Kent Hall
To end my day I went to study break where we all go to our RA's group and hangout with each other and eat the things the RA's make. Our RA, Anton, made some chocolate cookies with Nutella and some chocolate covered marshmallows. After hanging out a little I checked in for curfew a little early since I wasn't feeling good and I went to my room for the rest of the night.