After sleeping at 3 AM, I woke up at around 5 AM to get ready for the ride to Philadelphia. I'm glad the seats on the Amtrak were comfy, because all of us took a much-needed two hour rest.
Since it is Alie's birthday today, we got her a custard pie with fruit on top, a dark chocolate bar, a card we all signed, and a bottle of sparkling water (she loves fruit, dark chocolate, and sparkling water). Later on, her mom and her mom's boyfriend surprised Alie at the train station with a Happy Birthday balloon and flowers, which I thought was so sweet!
We split up into two taxis and went to see Independence Hall and the Liberty Bell. What I thought was most interesting was how abolitionists named the Liberty Bell, which I didn't know before today.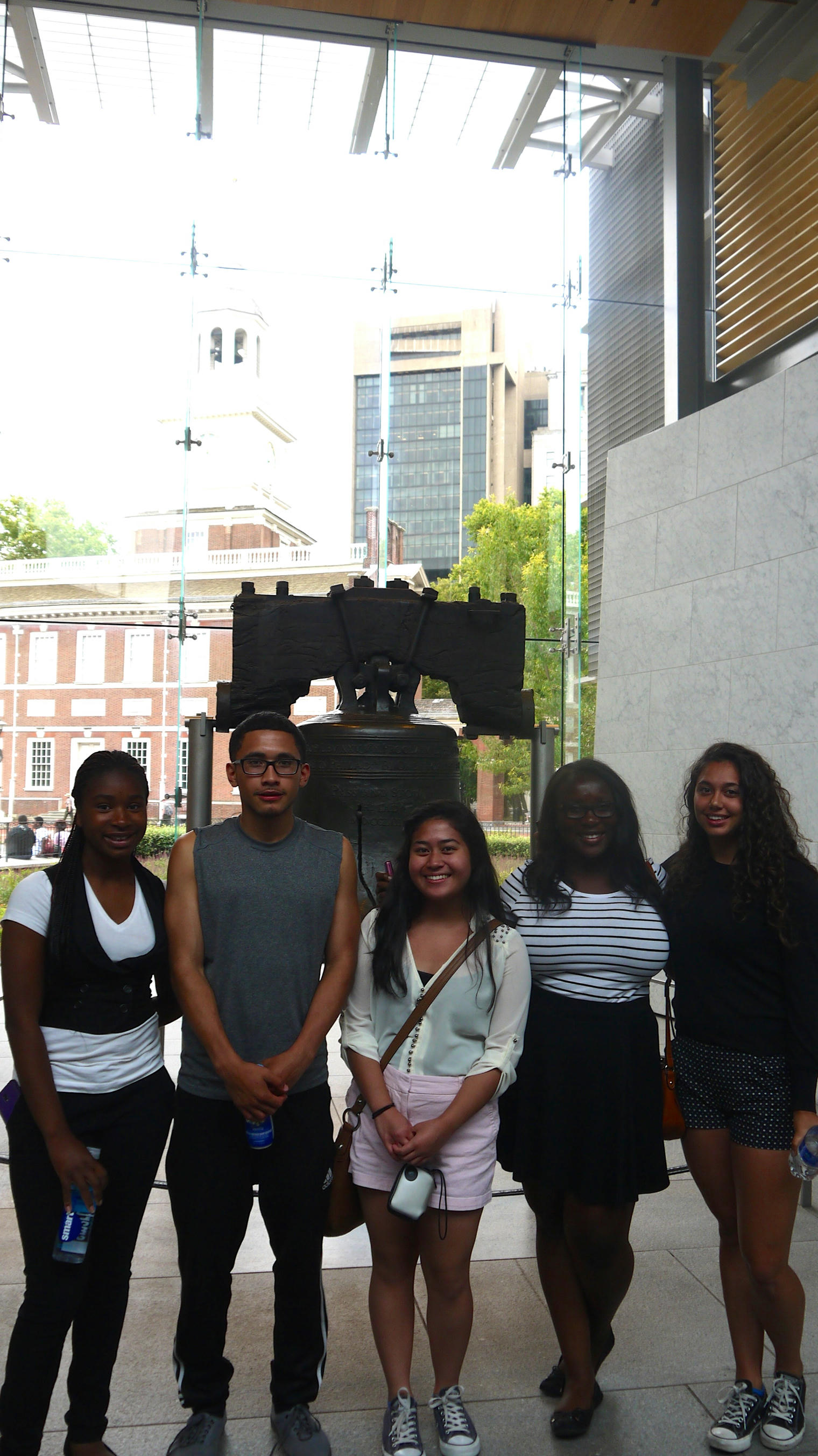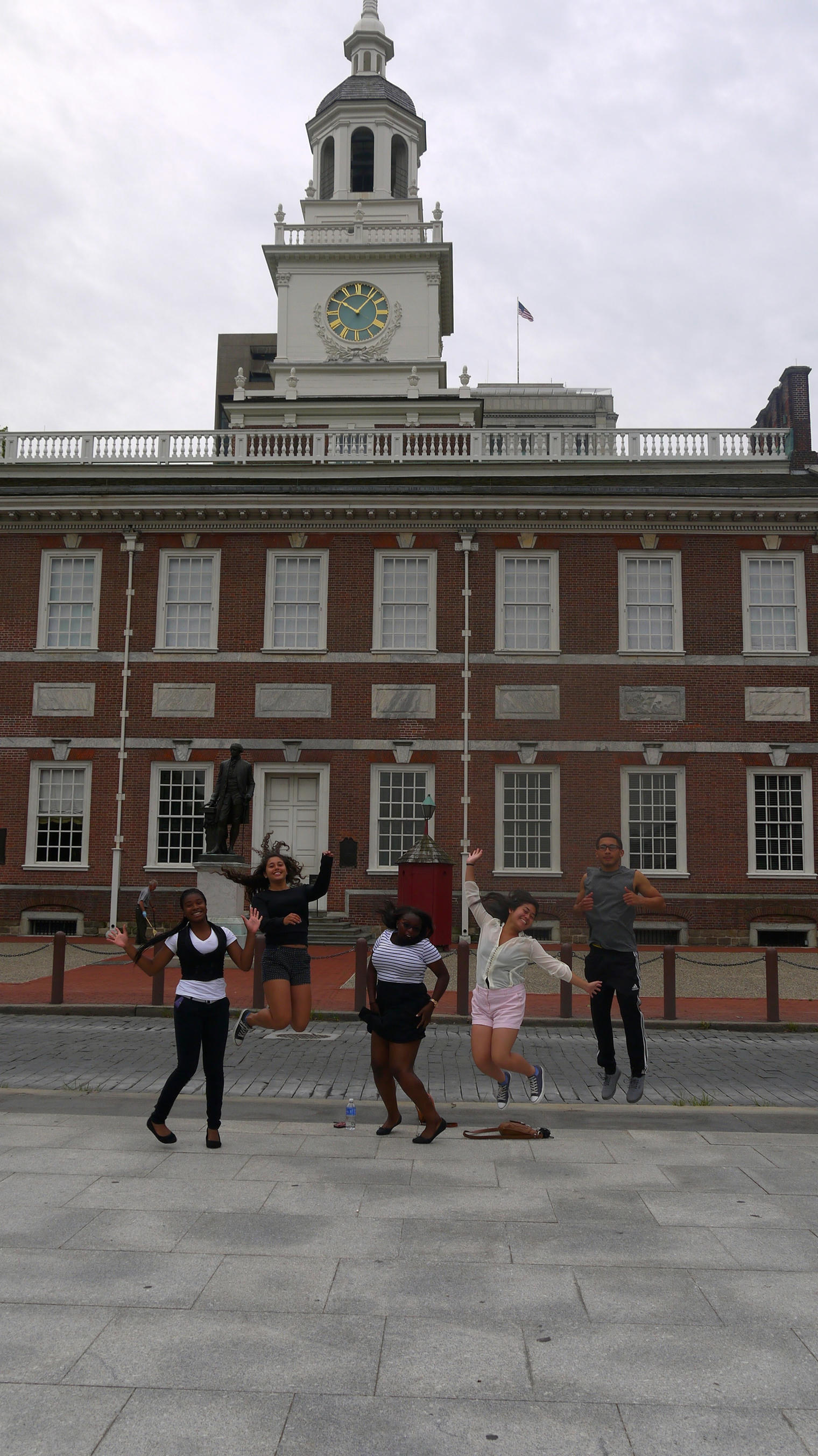 We took taxis to the University of Pennsylvania and went to 1 College Hall for the campus tour. Our tour guide was Isabel, a rising junior from Panama. She took us around campus, which I loved. The tall brick buildings were so beautiful, as were the modern glass buildings. She showed us sorority and fraternity buildings, the blue lights emergency poles, two Benjamin Franklin statues, the famous LOVE statue, and more.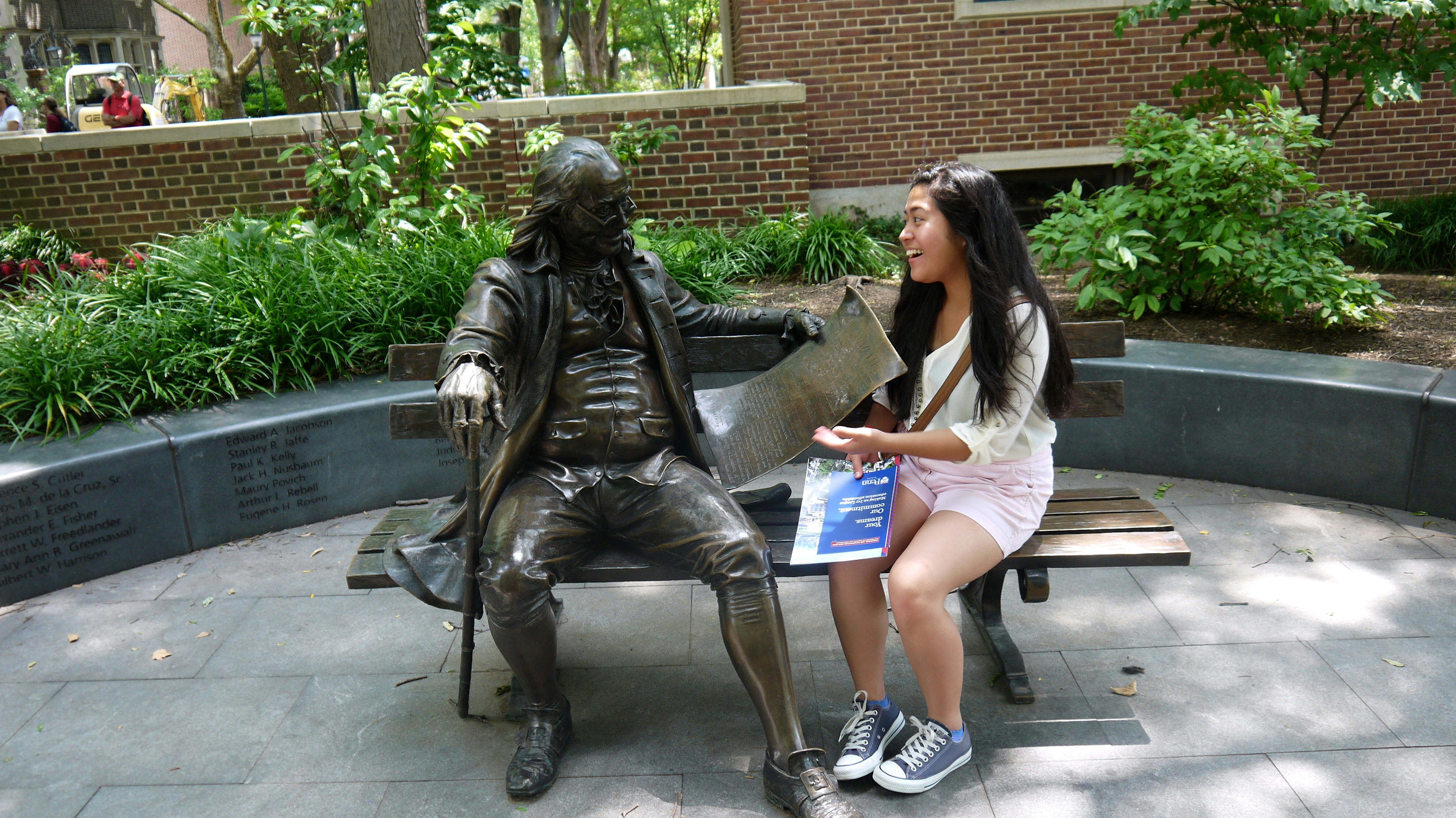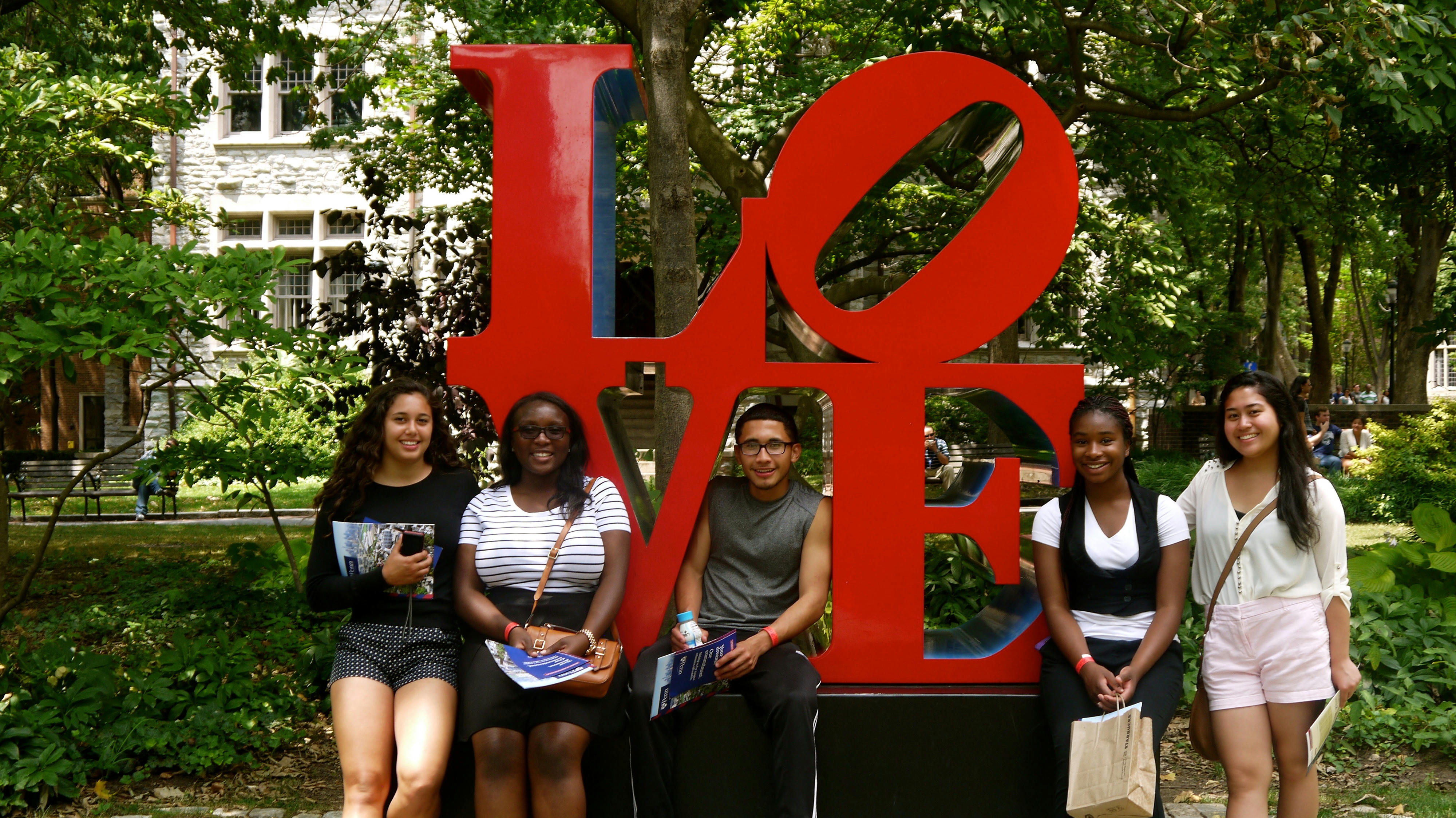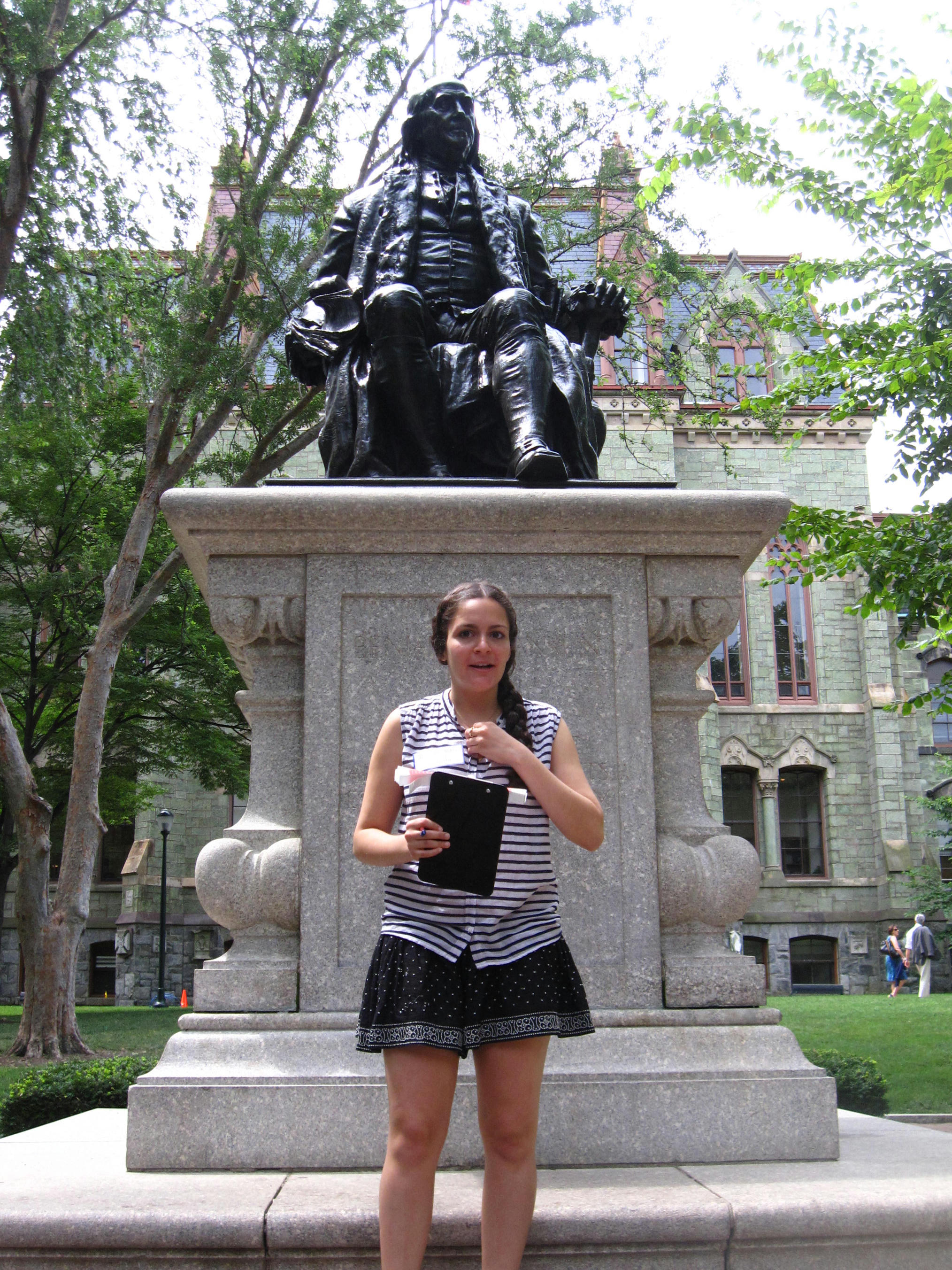 Isabel in front of Ben without a button
Isabel told us how instead of dragging all your heavy books wherever you go, you can just stop by the libraries and borrow a textbook. She also told us how you can borrow famous old first edition books (though everyone just reads them at the library because they don't want to break them).
She also told us a funny story behind the broken button statue directly across from Benjamin Franklin's statue—an artist was looking for inspiration around campus and noticed that Franklin's statue was missing a button. He said that maybe one night Franklin had too much to eat and drink and was so full that a button popped off, resulting in the cracked white button statue across Benjamin's statue. I thought the button statue was really random before knowing the story behind it, but now think it's really cool.
She pointed out the buildings for the four undergraduate schools UPenn has: the Wharton School of Business, the School of Engineering and Applied Science, the School of Nursing, and the College of Arts and Sciences.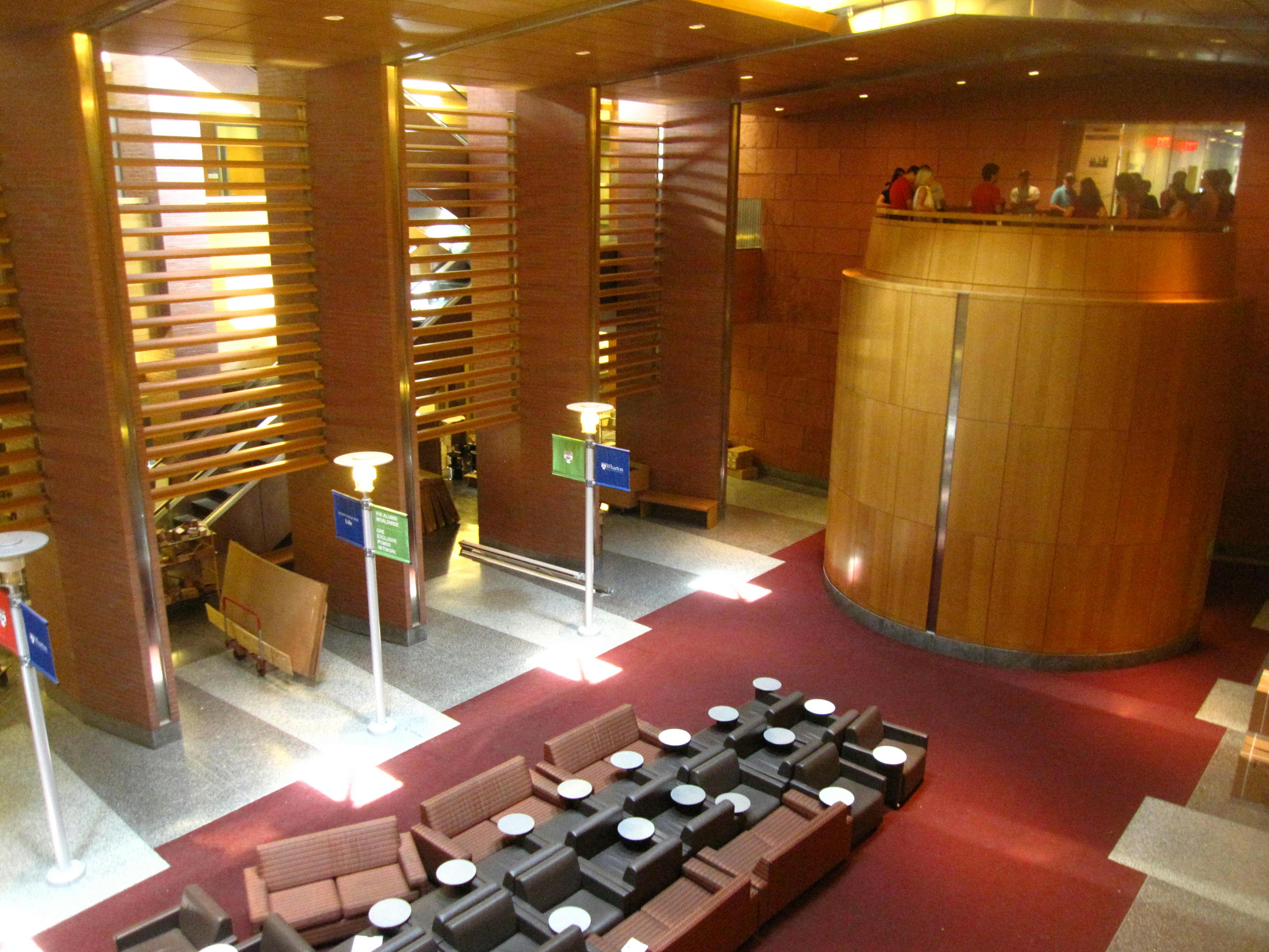 Inside Wharton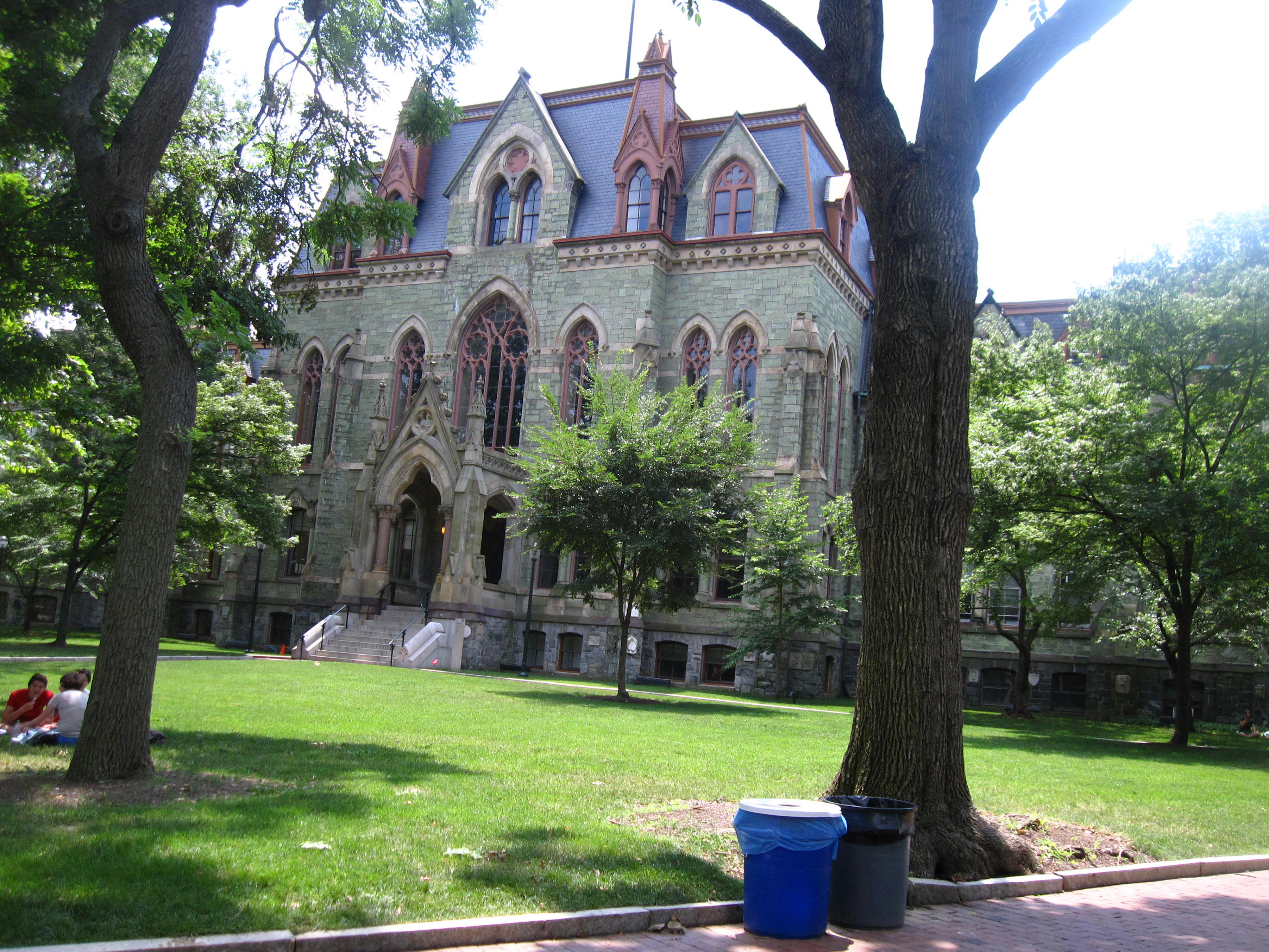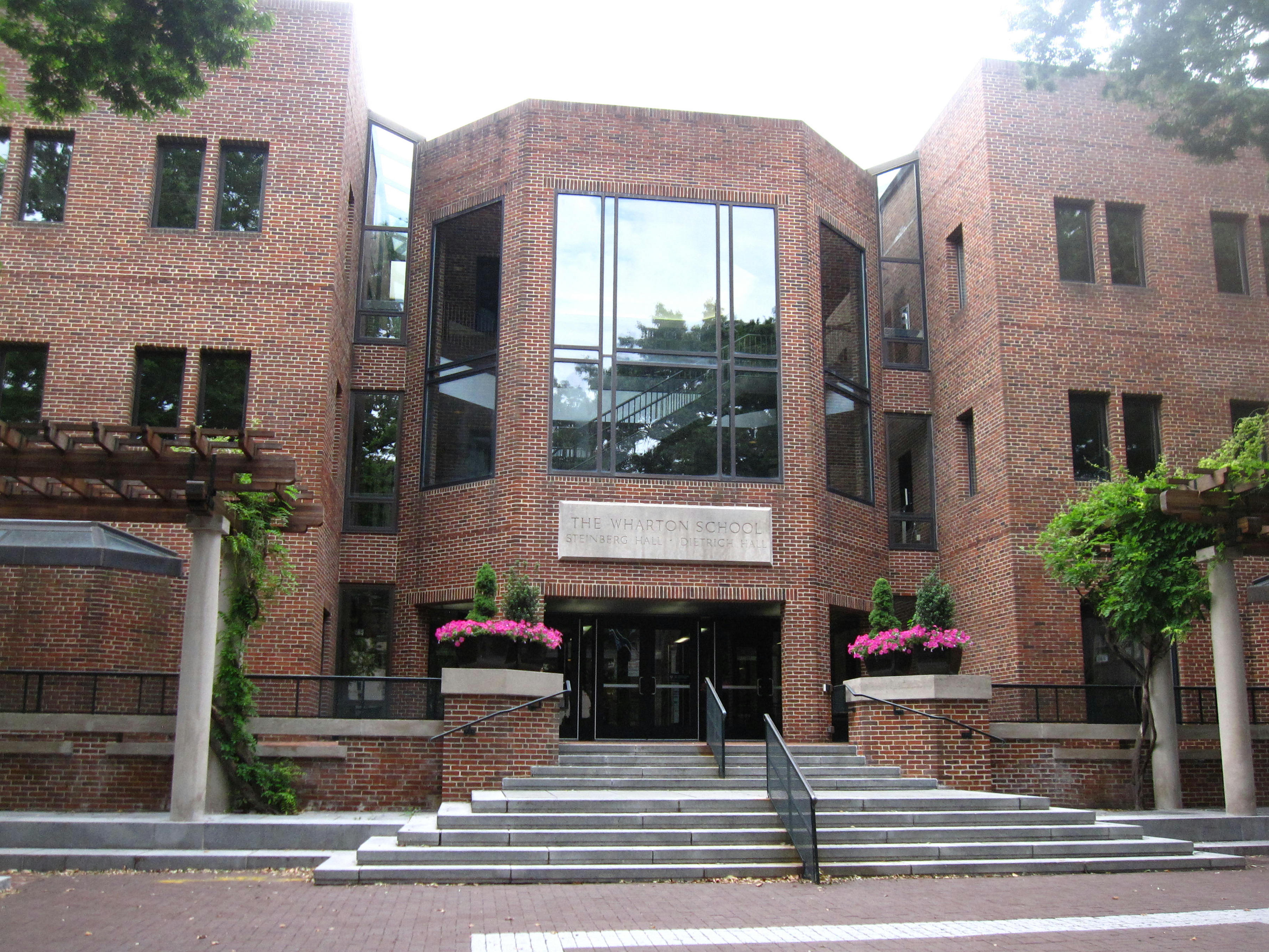 The campus was ridiculously beautiful, the weather was perfectly sunny yet not too hot, and Isabel was friendly and informative. However, after attending three tours and three alumni dinners, I feel like the campus tours barely even scrape the surface of the school you're looking in to (later on, talking with alumni at the dinner, we agreed that though campus tours are nice to attend, most of the information they tell you is very generic. For example, at every tour we've been to, all guides have said, word for word, "I've never once felt unsafe on campus" before talking about their emergency blue light poles [which is good information, but you'd think different people in different states attending different schools would say it differently]).
However, I really loved walking around the UPenn campus and could see myself studying in the library (which we visited afterwards) and buying food from the food trucks.
Our info session took place in UPenn's beautiful, gigantic theater. Our speaker was Jayson, an admissions officer. He told us how UPenn is America's first university, makes education accessible to every kind of person, helps students apply what they've learned in school to real life, and lets students have hands-on experience (they also have community service classes, where half of the class takes place in class, while the other class takes place in their community). They have core classes, but what kinds really depends on what school you're in. They have several classes you can choose from to fulfill those classes, so I thought it really isn't restrictive at all. They have a really strong international program, about 500 extracurricular activities, and about 50 performing arts programs.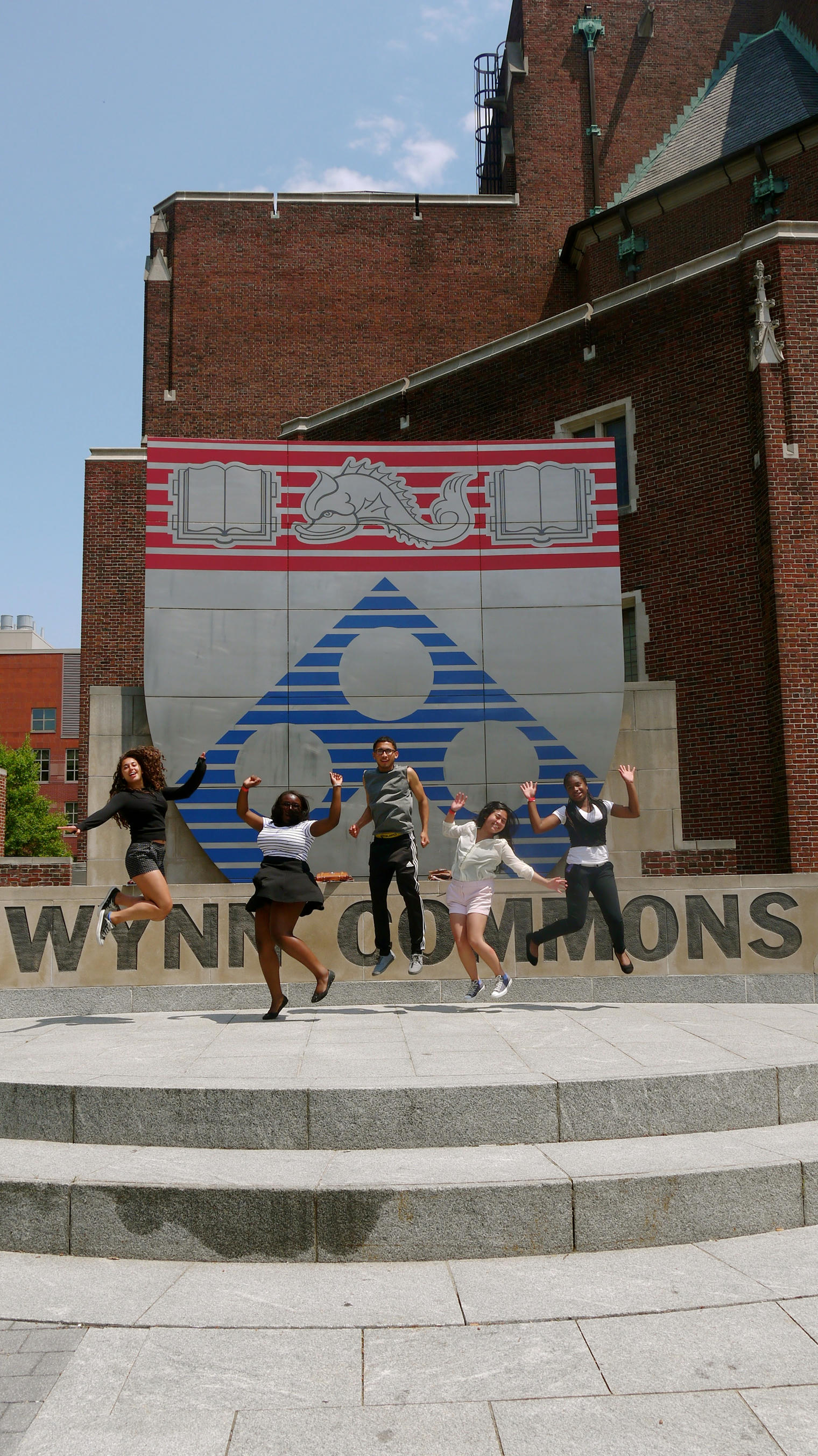 The usual jump shot
UPenn is a common app school, so they look at your transcript, SAT/ACT, extracurriculars, personal statement, recommendations, but also have a Penn supplement: they ask for you to tell them what specific part of Penn that resonates with you, as well as take an alumni interview.
What I loved the most is how UPenn is a need-based school, meaning they provide financial aid based on however much you need. Also, UPenn is need blind, meaning the amount of money you've requested doesn't affect whether or not you'll get in (in fact, they keep the amount of money you need "covered up" until they've accepted you). Most importantly, undergrads have no loans (due to the need-based policy)!!!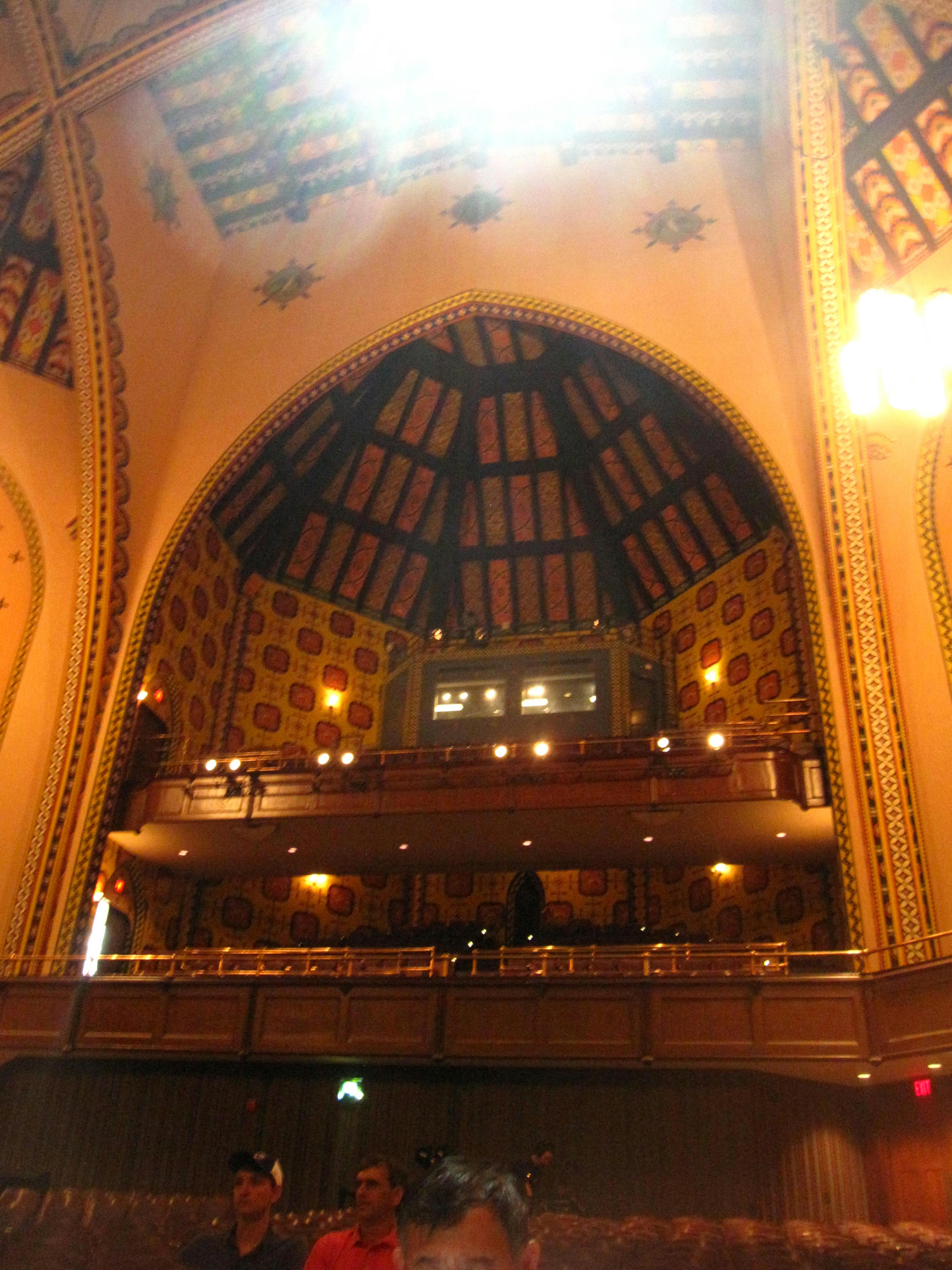 The back of the theater
Later on, we went to Davio's, a steakhouse at 2:30 PM. There, we met Jonathan, Carol, Kingson (all rising sophomores at UPenn) and Alex and Frank, admissions officers at UPenn. They were all so great! Though I wasn't able to talk to Carol and Jonathan that much, I'm glad I was able to talk to everyone else.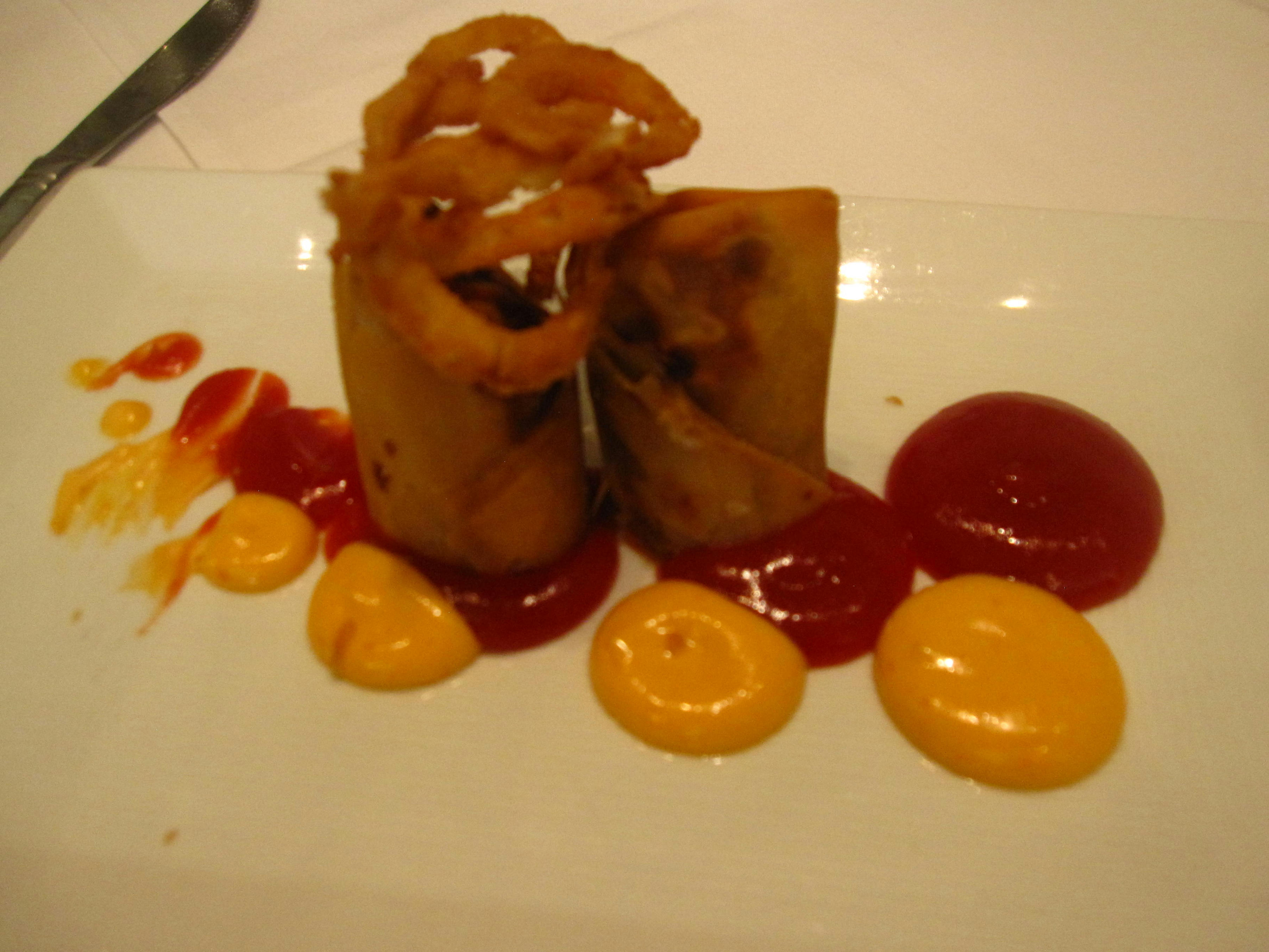 Philly Cheese steak eggrolls! SO GOOD.
I spent a good portion of the afternoon talking to Kingson, and he told me WAY more than I could've learned at a regular campus tour or info session. Early on, we found out that we were both interested in science (bio) and working with children. He told me of his major, BioChem, and how there are two kinds at UPenn—the theoretical and applied. He's a theoretical BioChem major, meaning he's in the College of Arts and Sciences, which have majors that basically don't fit into the other three schools.
He told me about how much he loves UPenn and didn't want to even leave over the summer. Instead, he has three jobs—an IT who fixes everyone's computers if they crash (AKA everyone's savior), someone who sets up and plans freshmen bio labs, and acts as a peer mentor during the summer to students who had just been accepted to UPenn, to make the transition from high school to college easier (Jonathan and Carol are also part of this program).
Kingson, Carol, and Frank told us traditions at UPenn: from the famous traditions like the Penn Relays, Hey Day, and toast throwing to the more obscure ones: the Sorority Step Day, an event when people in the audience dress up in costume, and how, at around 2 AM to 4 AM, everyone goes to a convenience store equivalent to 7-Eleven and hangs out.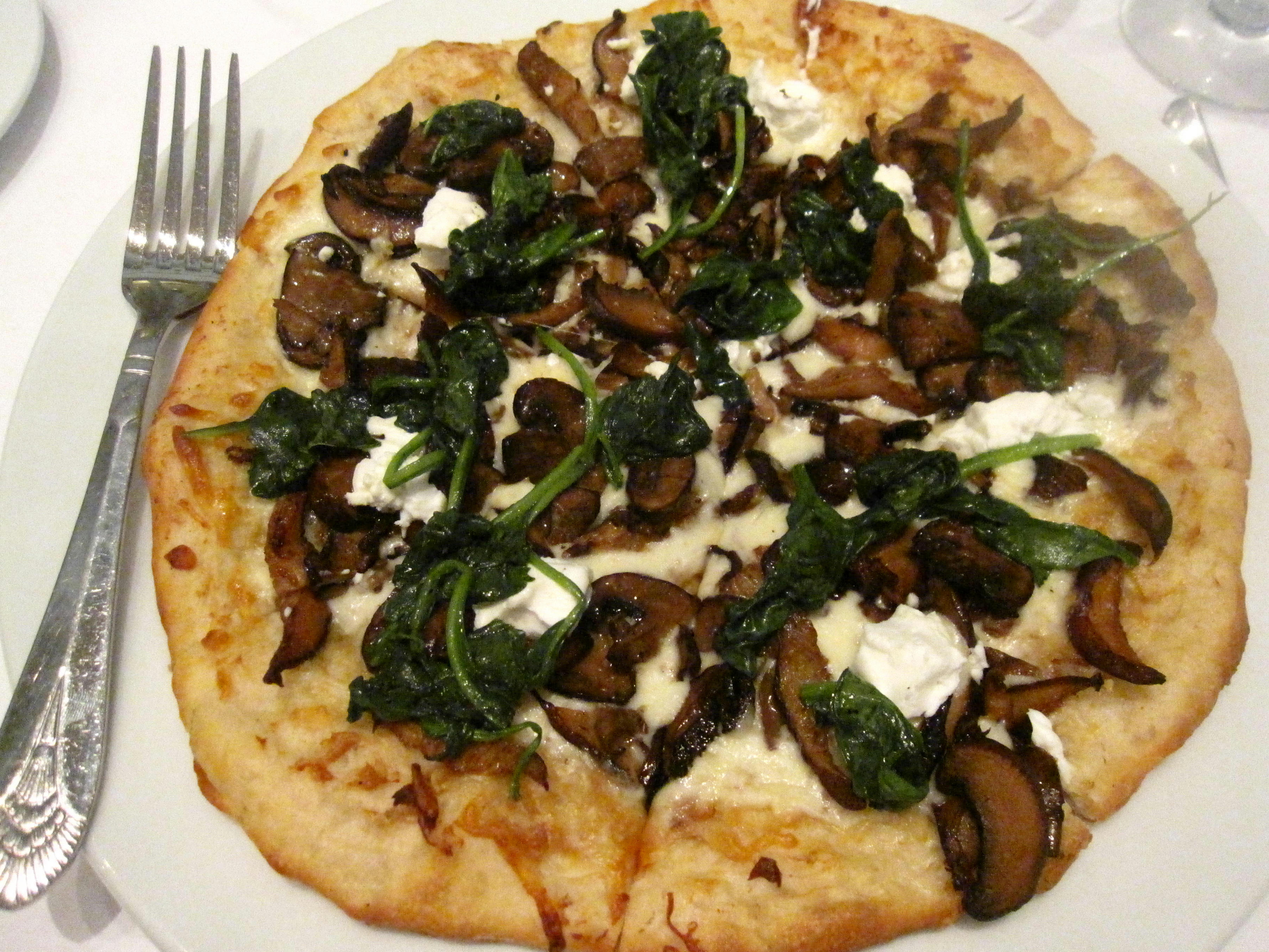 It was so good. And big. I still have half in the hotel room.
Kingson told me about his business club, how they make their own businesses and whichever's the most popular will get funding. The proceeds would be donated to the community. Kingson told us how his business was breakfast delivery, and how he donated to the deaf or to college moms.
Kingson told me how food at UPenn is good, but is repeated from week to week. He recommended using Dinner Dollars instead of going to the cafeteria to use at one of the four Starbucks on campus or buying from the food trucks. He told me how after freshman year, you can move out of campus. He also said how nice and friendly RAs are, and how they're given money to spend on the dorm kids (which reminded me a bit of Washington U's WUSAs. I like it). He said how people at UPenn are competitive, but aren't cutthroat or try to sabotage your work, like other schools. Like what Kevin and Nishaat from Georgetown said the other night, competition just pushes you to work harder.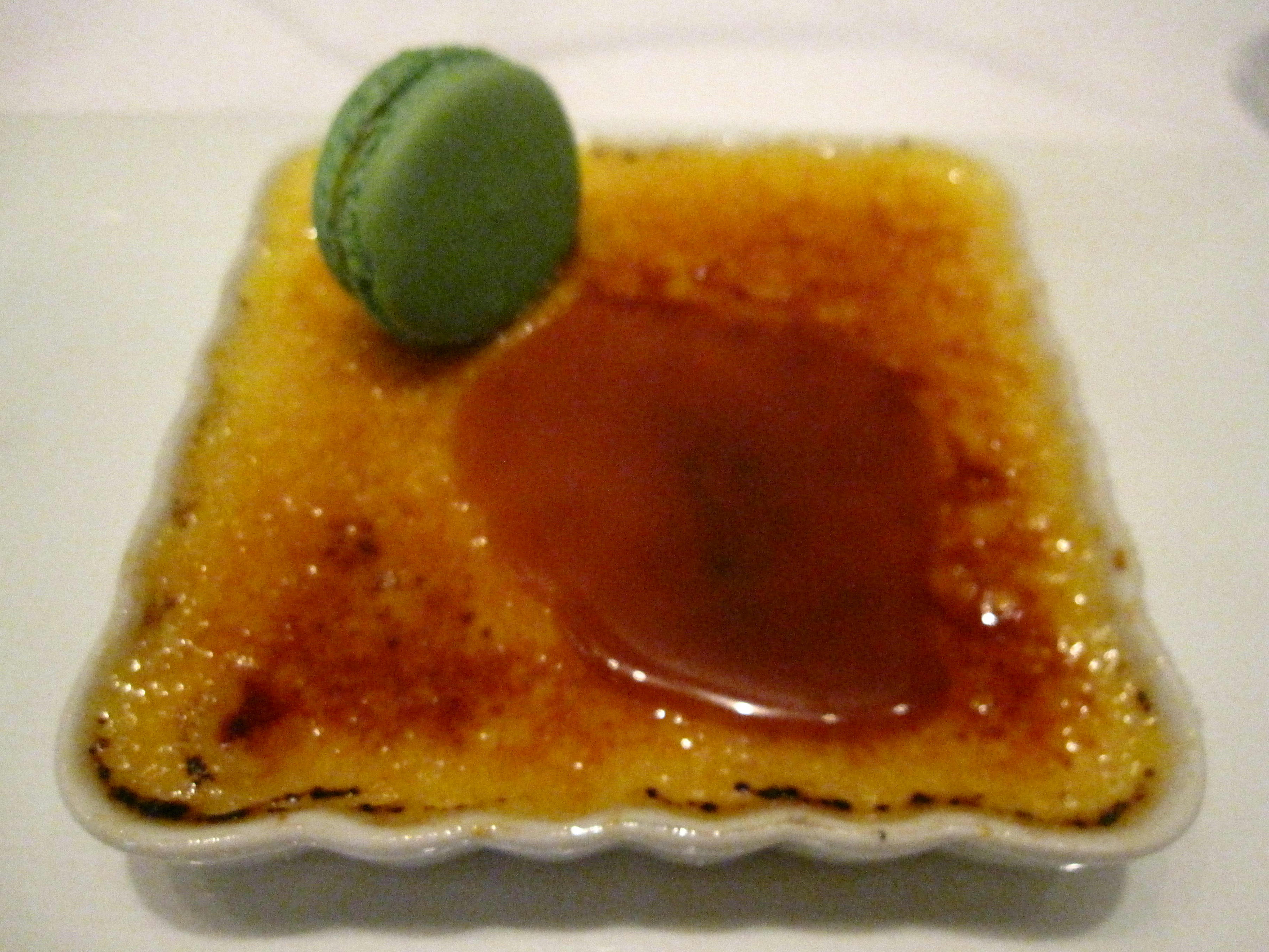 Salted caramel creme brulee.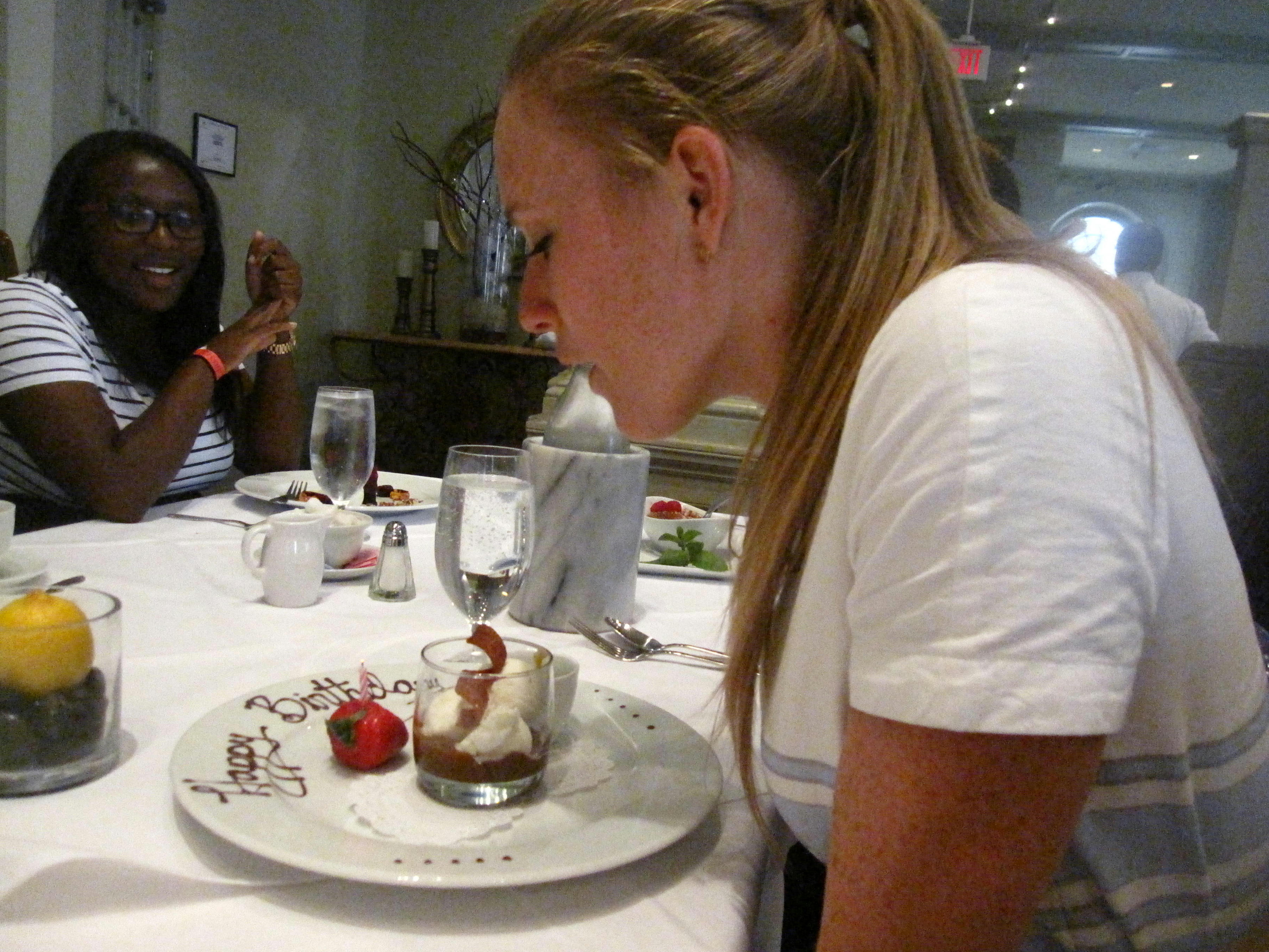 Alex and Frank told us how their jobs as admissions are: like running a marathon or cramming for a test. In other words, taxing but worth it. They said that they look for people who let their personalities shine through their essay. They want to feel like they met the person through their essay. They said that if something is optional in their applications, then don't do it (it makes it easier for them). They also said that good interviews are conversational and flow.
I feel like there's more I should've said, but I can't think of anything right now. Some words of advice: try to talk to someone from the school instead of just touring or listening to the info session. I love UPenn, even before I talked to Alex and heard how credits from CCC count in college (as long as it isn't counted towards your HS diploma). She said how even though they might not count college classes that counted towards your HS diploma, they might transfer you out of the class. If you have a lot of credits, you could apply as a transfer student and skip a grade.
I love this school. I'm so glad I was able to meet the students and admissions officers!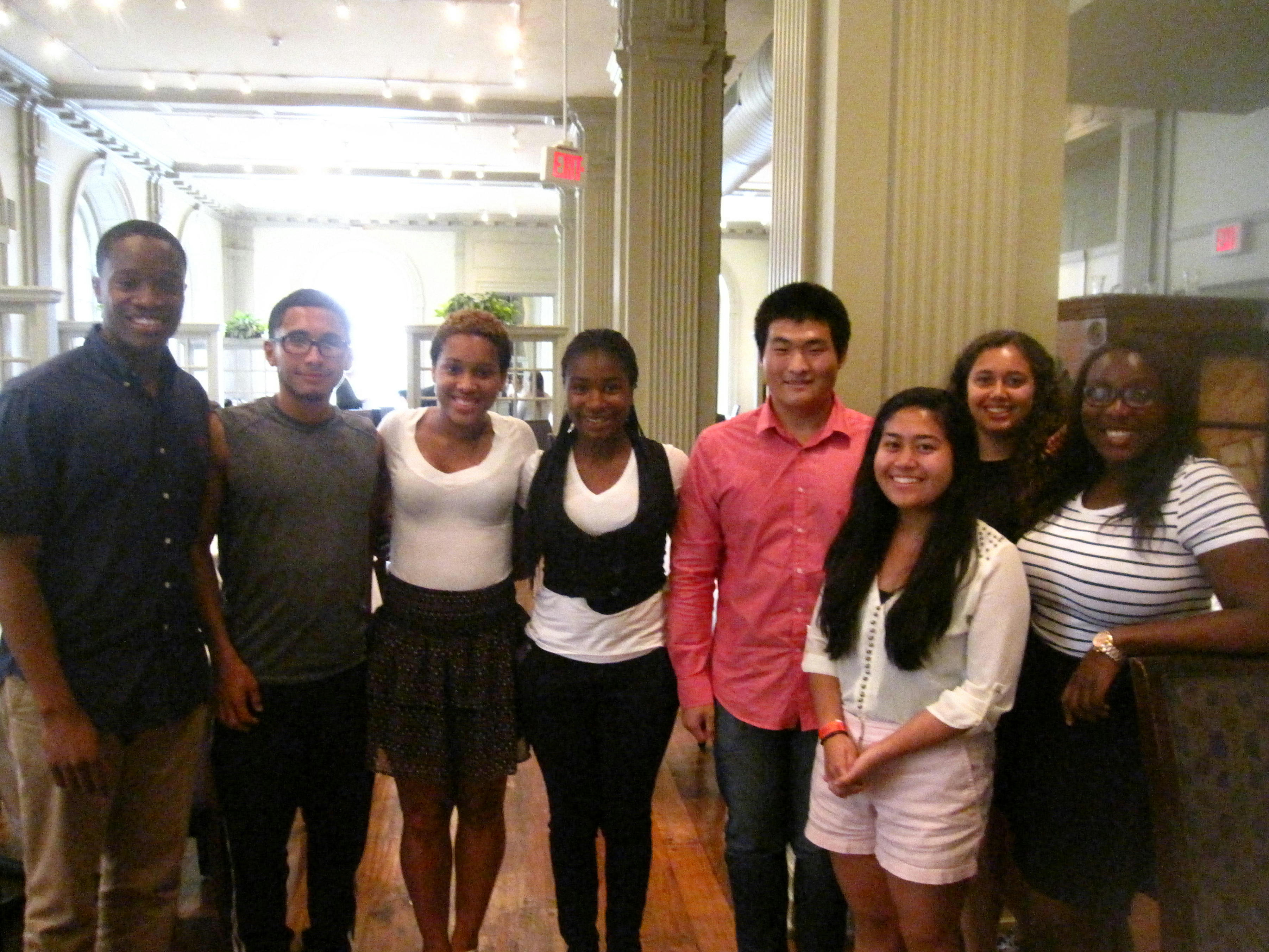 Jonathan, Jimmy, Carol, Vicky, Kingson, me, Alexa, and Oyin
Also, I saw the bill tonight. WOW. Thank you also to the sponsors, if you're reading this.